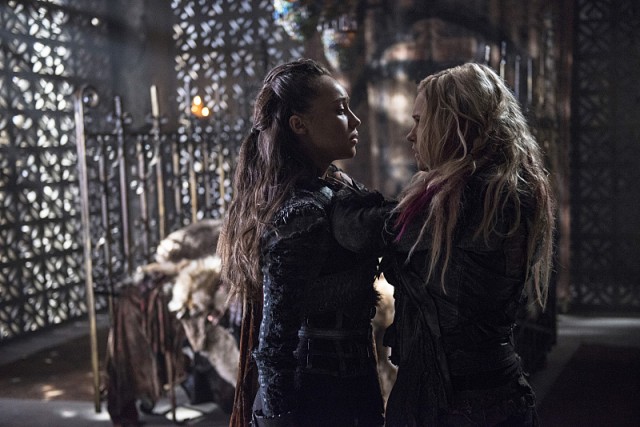 Man. The 100 is a really good show. It must get old, reading every post I write about this show that just talks about how good the show is, but it was in my top 10 favorite shows of 2015. That's not an easy list to crack. There are so many things about The 100 that I appreciate, that I'm glad to have the opportunity to cover a whole season so I can get all of them in.
This week on The 100: Lexa attempts to negotiate with Clarke to bring the Sky People under her as the 13th tribe. Kane and Abby head to the capitol for a summit. Bellamy and Octavia encounter Echo, who insists that the summit is a trap. The Ice People attack Mt. Weather.
Man, this was a pretty intense episode. One of the things I love most about this show, though, is that they don't try to slow up or fill time. They run full speed ahead into whatever they're tackling next. They wasted no time in getting to the next challenge for the Sky People and the Grounders. (SPOILERS) Did you expect Mt. Weather would blow up in the third episode? Yeah. Me either.
Something that struck me while watching this episode was how wonderful everything looks. I mean, there's a lot of CGI involved and I get that, but I love the distinctions with the character make up, and the attention to detail that goes into everything they do. When you stop and think about the world being surreal, it sounds pretty ridiculous, but when you're watching and invested, it FEELS real. That's a credit to the creators. They've built an extensive world and the audience is welcomed into it.
I appreciate that they don't see it necessary to use every character in every episode. As much as I love Monty, Jasper, Murphy, etc., this episode felt about as full as it needed to be. I commend their discretionary storytelling. When they rely on less characters and make the scenes less crowded, it gives more impact. That being said, I did have to strain to remember that Mt. Weather guy who revealed himself at the end, and really to remember Echo. But once I did, it gave me an even bigger appreciation for the world they've built.
I don't complain about much with this show. Like I said, it must get tiring reading my constant rave reviews. However, I will offer this as a semi-criticism. I have NEVER sensed that much chemistry between Clarke and Lexa. I'm not a practicing shipper, and I prefer to let character relationships play out naturally rather than will them with all my might to get together. I actually reject the notion that main characters need to have relationships or love interests. But it's easy to see why Clarke would. Even in a world with Supergirl and Peggy Carter, Clarke is the strongest woman on television. I digress, but my point is that I never sensed much chemistry between Clarke and Lexa UNTIL this episode. All of a sudden it was radiating from the two in their final scene. Maybe I'm late to the party and it just clicked for me, but either way, it was there and it was incredible.
The 100 has become a fast paced thrill ride. There are tons of twists, turns, drops of the stomach. No matter how much you feel during an episode, you can't wait to move forward and watch the next one. Just when you think it's reached peak intensity, it hits you hard with another excellent episode.
What did you guys think? Did you enjoy this episode as much as I did? Let us know!!
The 100 airs Thursdays at 9/8c on the CW
The 100 Season 3 Episode 3 Review: "Ye Who Enter Here"
Summary
The Sky People become an official grounder tribe in this week's excellent episode of The 100.