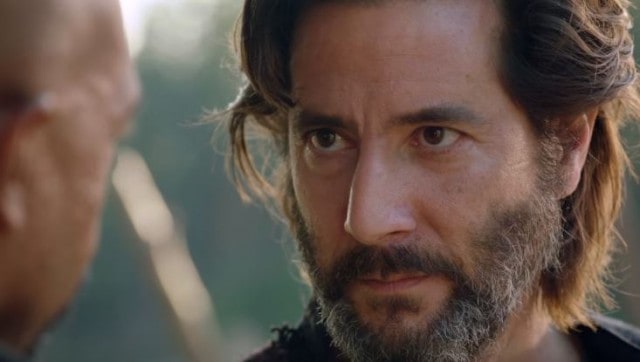 After last week's emotional episode of The 100 took place entirely in Polis, the CW series will take a break from the Grounder capital in Thursday's all-new hour and center on the drama that's happening in Arkadia. Obviously, the biggest storyline going on at the Arkers' camp is the Cold War-esque battle between Kane and Pike, as both of them have made non-violent moves against the other to try and get the upper hand. However, that whole non-violent strategy may change in tomorrow's episode, titled "Terms and Conditions."
As shown in the sneak peek below, Pike is getting closer and closer to figuring out exactly what Kane has been doing behind his back, and when he actually catches the former chancellor, you know it won't lead to anything good. Adding even more fuel to the fiery fight between them is the fact that Kane realizes that he may have to "use drastic measures" in his efforts against Pike. Could that mean he's going to stop with the spying and try out a more forceful, physical approach?
Meanwhile, the City of Light storyline also continues in "Terms and Conditions," and it sounds like Raven may be trying to convert one of her friends to Jaha's ways, as she reaches out Jasper for help with a plan. What exactly is this plan that Raven has come up with, and is it something she's doing on her own or does A.L.I.E. play a role in it? We'll have to wait and see.
The 100 airs Thursdays at 9 p.m. on The CW. Check out the sneak peek of "Terms and Conditions" below:
KANE MAY BE FORCED TO USE DRASTIC MEASURES – Kane (Henry Ian Cusick) is searching for a peaceful way to handle things but soon realizes he may be forced to resort to drastic measures. Meanwhile, Pike (guest star Michael Beach, "Sons of Anarchy") suspects that there may be a leak within the walls of Arkadia. Lastly, Raven (Lindsey Morgan) has a plan and reaches out to Jasper (Devon Bostick) for help. Isaiah Washington, Bob Morley, Christopher Larkin and Ricky Whittle also star. John Showalter directed the episode written by Charlie Craig.
[Photo via YouTube]