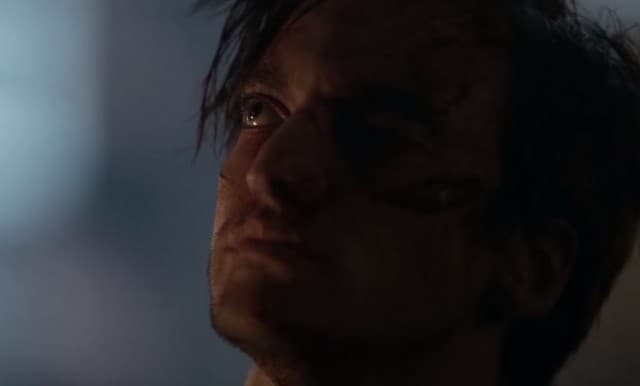 The 100's writers and producers have promised that fans will get more than a couple shocking answers to questions they've had for a long time in tonight's all-new episode, titled "Thirteen." And in this sneak peek from the all-new hour, answers are exactly what Titus is looking for from Murphy when he questions him about Jaha and A.L.I.E. But does Lexa's right-hand man know more about the two of them than he's letting on?
In the clip below, Titus interrogates Murphy about the chip that Jaha gave him, claiming that it has the "sacred symbol of the Commander" imprinted on it. How could he come into possession of something that features the Grounders' most holy symbol? Murphy's explanation that Jaha gave it to him, promising that if he took it, the woman in red would take him to the City of Light piques Titus' interest.
"But the woman was not a woman?" Titus asks.
"That's right," Murphy tells him. "She's a computer program, but I get that's hard for you to grasp considering you pray to garbage. No offense, obviously."
The 100Â airs Thursdays at 9 p.m. on The CW. Check out the clip from "Thirteen" below:
FLASHBACK TO A DARKER TIME – Lexa (guest star Alycia Debnam-Carey, "Fear the Walking Dead") tries to maintain peace and order within the clans, and Clarke (Eliza Taylor) uncovers a strange and game-changing truth. Meanwhile, a flashback takes us into the darker chapter of humanity's past. Paige Turco, Isaiah Washington, Henry Ian Cusick, Bob Morley, Marie Avgeropoulos, Devon Bostick, Lindsey Morgan, Christopher Larkin, Richard Harmon and Ricky Whittle also star. Dean White directed the episode written by Javier Grillo-Marxuach.
[Photo via YouTube]