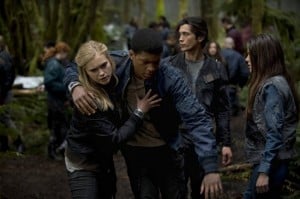 The 100 is a show much in the same genre as the wildly popular Hunger Games franchise.
Ninety seven years ago, a nuclear war destroyed the Earth and mall of civilization with it. Only 400 inhabitants of 12 international space stations survived the destruction. Now three generations have been born in space, bringing the total number of survivors to 4,000. But resources are running low on their "Ark", the collection of 12 space stations that are now linked together. Population control and capital punishment are the new order of the day and the leaders of the station decide to send 100 young prisoners back to Earth to see if it's once again habitable.
"Among the 100 exiles are Clarke, the bright teenage daughter of the Ark's chief medical officer; Wells, son of the Ark's Chancellor; the daredevil Finn; and the brother/sister duo Bellamy and Octavia, whose illegal sibling status has always led them to flaunt the rules. Technologically blind to what's happening on the planet below them, the Ark's leaders – Clarke's widowed mother, Abby; the Chancellor, Jaha; and his shadowy second in command, Kane – are faced with difficult decisions about life, death and the continued existence of the human race.  For the 100 young people on Earth, however, the alien planet they've never known is a mysterious realm that can be magical one moment and lethal the next.  With the survival of the human race entirely in their hands, THE 100 must find a way to transcend their differences, unite and forge a new path on a wildly changed Earth that's primitive, intense and teeming with the unknown."
The series stars Eliza Taylor (newcomer) as Clarke, Paige Turco ("Person of Interest," "Damages") as Abby, Thomas McDonell ("Suburgatory") as Finn, Eli Goree ("Emily Owens, M.D.") as Wells, Marie Avgeropoulos ("50/50") as Octavia, Bob Morley (newcomer) as Bellamy, Kelly Hu ("X2: X-Men United," "Arrow") as Cece, Christopher Larkin ("Squad 85") as Monty, Devon Bostick ("Aim High") as Jasper, with Isaiah Washington (upcoming "Blue Caprice," "Grey's Anatomy") as Chancellor Jaha, and Henry Ian Cusick ("Lost," "Scandal") as Kane.
The 100 will air at midseason. For The CW's full 2013-2014 schedule, click here.
[youtube=http://youtu.be/SNK5RkQ3F3Q&w=540&h=365]