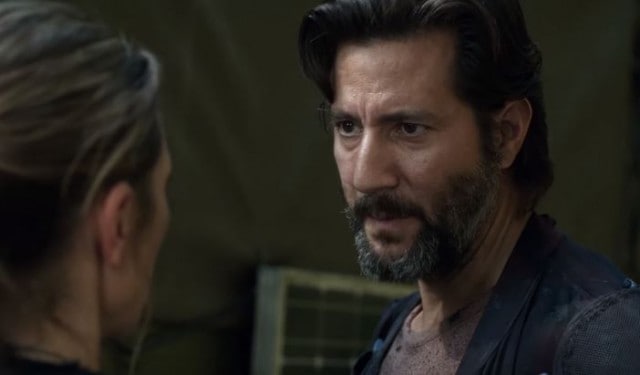 Kane and Abby will arrive in Polis to meet with the Grounders in tonight's episode of The 100, titled "Ye Who Enter," but things between the two of them are a little tense before their big sit-down. Why is that? Because, as Kane states in the sneak peek below, Abby has re-opened Mount Weather for the Arkers' use, and the fact that the Sky People are coming and going from a place where so many Grounders were tortured and killed could complicate the fragile peace between the two groups.
Furthermore, Kane is worried about how it will affect future requests that the Arkers are negotiating for, such as lifting the kill order on Lincoln, opening up trade roots, and even getting Clarke back. But when Abby begins to blame herself for Clarke's situation, Kane stops her, insisting that Clarke isn't a "bargaining chip" and that they will do everything they can to get her back.
"We won't leave without your daughter," Kane tells Abby. "I promise."
The 100 airs Thursdays at 9 p.m. on The CW. Check out the sneak peeks from "Ye Who Enter" below:
MICHAEL BEACH ("SONS OF ANARCHY") GUEST STARS — Clarke (Eliza Taylor) wrestles with a decision. Bellamy (Bob Morley) learns that something isn't what it seems. Meanwhile, Murphy (Richard Harmon) plots to betray his former Chancellor (Isaiah Washington). Paige Turco, Henry Ian Cusack, Marie Avgeropoulos, Devon Bostick, Lindsey Morgan, Chris Larkin and Ricky Whittle also star. Antonio Negret directed the episode written by Kim Shumway.
[Photo via YouTube]