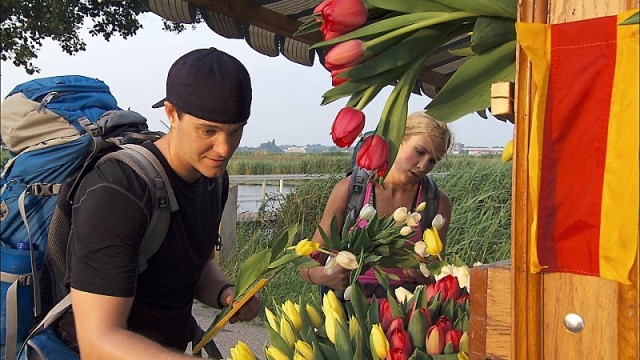 As The Amazing Race gets further into its 27th season, it's becoming more and more clear that no one is going to be able to out race Justin and Diana. Even if they were a remotely likeable team, this would still lead to boredom after a few episodes. Seeing as Justin is one of the most aggravating people to ever watch run the race, this season has been just downright frustrating. Despite arguments and setbacks, they still manage to consistently land in first place while other teams, just as deserving, have to fight it out for second or third place. This week's runner ups, Joey and Kelsey, are determined not to let the Green Team run away with the race. But at this point, the other teams might have to work together to stop them.
This leg of the race took teams to Rotterdam, Netherlands (not to be confused with Amsterdam, as many teams were). For Cindy and Rick, this was their first big mistake of the leg, accidently not getting off at the Rotterdam stop thinking that they were looking for Amsterdam. With this error, James Earl and Denise were able to make up some ground on the doctors and put the teams on more even ground. Texas boys, Josh and Tanner, elected to sightsee in Paris instead of hoping on an earlier train to Rotterdam, also leaving them towards the back of the pack from the start.
Meanwhile, Justin/Diana, Joey/Kelsey, and Tiffany/Krista took the lead, getting to Rotterdam before anyone else. Their next task wouldn't start until early the next morning however, with fifteen minutes separating different team's start times. This attempt to even the playing field for teams, hopefully allowing a shift in power, was appreciated but in the end did not accomplish much. The first three teams to arrive in Rotterdam were the first three to complete the leg of the race with the teams who usually find themselves at the back of the pack remaining there.
Once again, this leg found Justin and Diana bickering as he refused to accept any decision she wanted to make. Right from the start, when she thought they should run to their next stop instead of taking a taxi, he was questioning her decisions and insisting that she was making the wrong ones. Her decision, in the end, probably ended up winning them a few thousand more dollars as their first place finish gave them a dollar for every step they took during this leg. Justin made sure she knew how unhappy he was though whenever she insisted on being allowed to be a true member of their team. The rest of the leg went a little better for them and of course, with a successful first place finish, they were able to put the bickering behind them. It still seems to me that communication is a major problem for these two though, one that could be their undoing.
Frontrunners for the first few legs, Josh and Tanner have found themselves towards the middle of the pack the last few weeks, no longer proving themselves to be the major competition for Justin and Diana. Instead, that title has been handed over to Joey and Kelsey who have taken second or third place pretty consistently. These two believe that if they work with Krista and Tiffany, another team that has pulled to the front of the pack recently, they could be able to take the Green Team out. Combined with the lack of communication skills, we can only hope that Justin and Diana will be able to be stopped.
For Cindy and Rick, their initial error on this leg of the race seemed to set the tone for the whole leg. They had difficulty with transportation, always seeming to pick the wrong option and lost a lot of time because of this. At the end, it was between them and James Earl/Denise but the doctors just couldn't pull it off. They were incredibly grateful for the experience and are looking forward to starting a family together, knowing that they communicate well when faced with stressful situations and can truly trust each other.
[Photo via CBS]