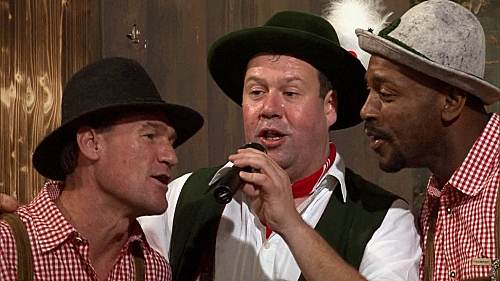 Part of the fun of The Amazing Race lies in the countries picked for the teams to visit. Either the race heads to a mostly unheard-of land and exposes an interesting country to millions or it goes to a familiar location and tries to find a fun area to explore within in.
In tonight's episode, it's the latter, as the teams head from Turin, Italy to Bavaria, Germany, still eight-deep after last week's non-elimination. Once in Germany, they must find a way to Neuschwanstein Castle, homage to Richard Wagner and inspiration for Disneyland's Sleeping Beauty Castle. However, Vanessa and Ralph fall into a little trouble, apparently taking a longer way to the castle than Vanessa would like. Their hostility toward one another is nothing new on The Amazing Race, but let's hope this is the stress talking and not a sign of their team collapsing.
In better spirits are Bopper and Mark, which makes sense since they were spared last week. Joined by Kerri and Stacy at a puzzle challenge, the two cut up and hit on the witch toiling over her cauldron nearby. Part of me wants to be annoyed at how lightly they're (seemingly) taking things, especially considering their near-elimination, but too many teams forget to have fun on The Amazing Race. It's kind of nice to see two people that are behind and still not at one another's throats. Yes, there's a million dollars in play, but is that worth possibly severing a good friendship?
Say what you want about 'em, but Bopper and Mark are running the race their way and you have to respect that.
Elsewhere on The Amazing Race tonight,
The Amazing Race airs tonight at 8:00 on CBS.
Do you think Vanessa and Ralph can get it together? What teams could have trouble on the gingerbread challenge? Can Art and J.J. keep up their winning streak?