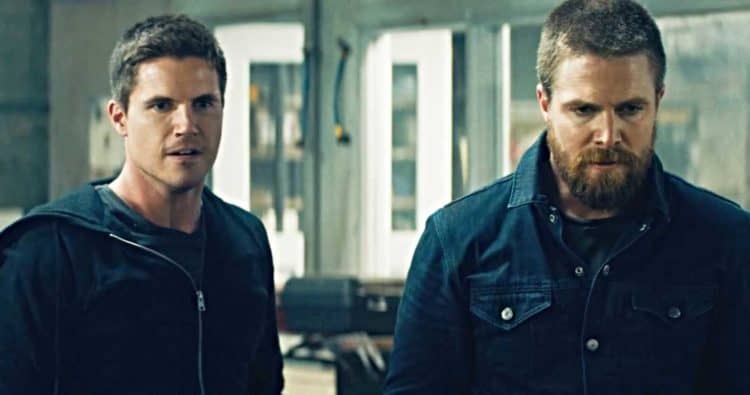 Honestly you get the feeling that Stephen Amell just needed to stick close to something that was at least close to what he'd been doing so long as Arrow, but this is at least different enough that one can see just how it might be appealing thanks to its uniqueness. Code 8 does kind of follow the idea of a hero or villain story depending on how you look at it since the main characters have to contend against a highly militarized police force and yet at the same time aren't exactly heroes as they're on the run after committing a petty crime that only leads them in to more trouble. Stephen and Robbie Amell look as though they're going to clash with each other just as much as the cops in Code 8 but it does look like it'll be a good time at the very least. It's definitely not bad considering that it started out as a short film and managed to gain the attention and the funding to become something more.
The cousins created this project as a crowd-funded movie that started gaining attention until finally it became big enough that Vertical Entertainment acquired the rights to it in order to make the movie into something slightly bigger than they'd initially planned. Patrick Hipes of Deadline has been covering this story with several others as the development has moved along, and you can imagine that more and more individuals are going to be reporting on this at some point. The premise seems simple enough, but there's bound to be something else within the plot that we aren't seeing in the trailer, and perhaps it will be enough to really earn the excitement that's already been built. Given that Stephen Amell has already gained a massive fan base it's not hard to think that the movie will get a nod or more from a lot of people since he's become quite the action star during his time as the vigilante Green Arrow. Honestly going the route of a crook, or at least an individual that exists on the wrong side of the law for one reason or another, doesn't seem like a big jump.
Stephen's cousin Robbie is obviously a familiar face for a lot of people as well since he's been a part of the CW and other noted movies that have been seen, such as The Babysitter and The Duff, which are both kind of oddball in nature  but are still fairly popular. The idea of a super-powered criminal, or more than one, taking on a police force that's been weaponized to take on such individuals is kind of an interesting story, one that's more pop culture than serious and down to earth but still entertaining all the same. The one thing that anyone needs to remember about cinema, especially in this era, is that it's meant to entertain, and isn't always meant to be insanely deep or hard to understand. Sometimes the stories are meant to be enjoyed and not much else since the audience is given everything they need to know and can wonder more about the ulterior motives and deeper issues if they so desire. Cinema is meant to tell a story, not answer the myriad of questions that people are bound to have about this or that. Of course it's nice when some movies are able to unravel their own twisted plot line to let the audience know what's going on, but after that it's usually best to keep up with the entertainment or main point of the story rather than continue to dig deeper into the hidden meaning behind the story. Some movies can do this as that's the main point they're trying to get at, but movies such as Code 8 need to remain topside as much as possible and explore the action and mayhem that's being caused rather than make people understand every last motivation behind it.
So far the movie looks like it could be a fun one, but the term 'good' is always up for grabs so it can be hung up to use later or pushed as much as possible despite the risk that it might not be that way once all is said and done. It's easy to have faith in the Amell's since they've already given us so much on TV, but when it comes to the movies only Robbie is really proven at this point and can boast that he's been pretty successful. Right now Stephen's biggest claim to fame, at least one of his most notable roles in the movies, has been as Casey Jones in the second Teenage Mutant Ninja Turtles movie, and a lot of people have likely already forgotten that such a thing exists, or have tried to. But it would seem that Code 8 might be a bit of redemption.