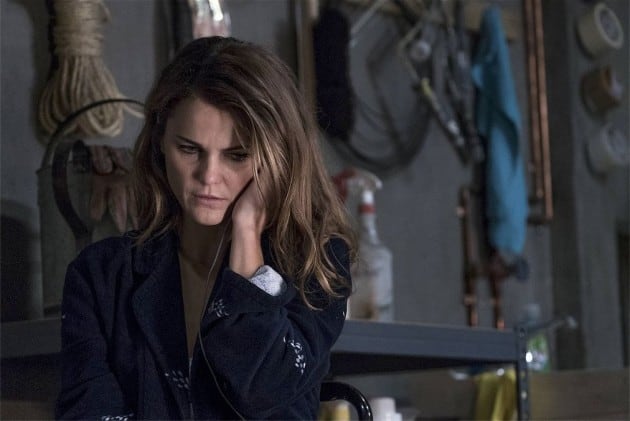 Most characters on FX's The Americans have had to ask themselves "How far am I willing to go?" The context has been different depending on the character, but that question is at the heart of "EST Men," the show's season three premiere. After transitioning from a first season full of marital and personal tension between central protagonists Philip and Elizabeth Jennings to a second season in which the tension moved outside of that marriage, season three immediately sets up some difficult interpersonal conflict for them. Paige, their daughter, has been targeted by the KGB for a new program designed to train agents at a younger age. Philip, who made his opposition to his daughter's involvement firmly known at the end of last season, now has to worry that Elizabeth might be warming up to the idea of Paige being brought in.
On paper, it's a simple point of conflict: mother and father disagree on what's best for daughter. But The Americans is anything but simple, and that conflict manifests itself in different ways throughout the premiere. The first shot we get creeps past a framed picture that includes Paige, encapsulating the protection she isn't even aware she receives within the domestic sphere. Then we get to Elizabeth in the bathtub as she recalls (or fantasizes; it's not clear whether what we're seeing is history of fiction) teaching Paige how to swim at a public pool. The way Elizabeth looks around at the other parents and children as a scared Paige hesitates to jump in before forcefully tossing her in is as clear a picture of the difference between Elizabeth's and Philip's parenting styles as any. Philip, in that situation, would have given a younger Paige verbal encouragement and eased her into the process, probably holding onto her from the shallow end to as far as Paige would be willing to go. Elizabeth, though, was brought up differently and has been affected by her time in America to the point where "kill or be killed" can be adapted into just about any situation.
One of those situations is the insane fight sequence that leads into the opening credits. After receiving a list of names of people involved in the war with Afghanistan, Elizabeth is confronted by Gaad and another FBI agent. She later tells Philip that it was a close call, but that doesn't even begin to describe how audacious the episode is to do this kind of sequence so early in the season. I still have some reservations about certain aspects of the storytelling in The Americans, which I'm very much looking forward to tracing across this season, but one thing that The Americans is unarguably fantastic at is building and capitalizing on tension in explosive ways. It's easy to exaggerate how effective certain things can be, but the end of this opening is downright shocking, because you just don't expect Elizabeth to have to fight her way out of what is essentially a life-or-death situation with one of The Americans' central FBI figures before the credits have even rolled. The blocking, choreography, and stunt work is all great, certainly, but it's that intangible feeling of "Is this really happening? Am I actually watching this right now?" that makes the sequence so impressive.
Elsewhere, "EST Men" does what most season premieres set out to do by catching up with the series' other characters and plotlines. Most notably, life has to go on for Stan and Oleg now that Nina has been sent back to the Motherland, despite how difficult that life might be. The events at the rezidentura are especially interesting following Arkady's briefing of the show's current Afghanistan situation. Period pieces often have a surprising amount of resonance for a contemporary viewership, and as the execution video plays, it's hard not to consider some of the horrific events that have happened within the past year. It's an unfortunately timely parallel that I'm not sure Joel Fields and Joe Weisberg had in mind when they conceptualized this season, but The Americans gains more political relevance because of it. Within the series' own story, it also allows Arkady to comment on how the Soviets might look to the Americans as a good example of a nation fighting the enemy from abroad–that any Soviet character in The Americans might compliment the country they're trying to take down shows the depth of characterization and the respect the writers have for not letting these people fall into caricature territory.
In the same way that global events tie America and the Soviet Union together, Nina's departure puts Oleg and Stan on similar paths. Towards the end of the premiere, we actually see Oleg spying on Stan, and one can't help wonder if their mutual interest in Nina's well-being brings their stories closer together than normal circumstances could ever allow.
Also of note is Philip's informant, Annelise, who doesn't manage to survive the episode after being more up-front with one of her targets than she should have been. Philip, ever the crafty spy, takes full advantage of her death, though, by offering to make the situation go away for her murderer. It's not quite on par with last season's inciting incident of Emmett and Leanne's deaths in terms of the season-wide impact it could have, but it leaves "EST Men" with a solid cliffhanger that helps get back to that idea of how far Philip is willing to go when it's anyone but his daughter who is on the chessboard.
Covert Observations:
– Yeah, that's Frank Langella as Gabriel, the Jennings' former handler. As if people needed another reason to watch The Americans. Plus the guy plays Scrabble. Come on.
– As Stan notices his co-workers' injuries, you begin to see him thinking about Elizabeth with that ice pack. If you go back and look at original reviews of The Americans, most will say how ridiculous the idea of the FBI agent neighbor was. Now, Stan and Philip being best buds seems as natural as anything else in the series. But just that scene in the office portends some potentially big things for this season, since Stan can't be in the dark for this whole series.
– Martha remains one of the best decisions The Americans has made. The shooting range scene would have been enough. Her experimentation with Clark, though. That's just great TV, folks.
– Also great: Elizabeth listening to the tape her dying mother has sent her. Keri Russell knocks this one out of the park by cataloging the emotions perfectly. I also love how committed The Americans is to its use of subtitles during important scenes of exposition and how it's able to let this scene with Elizabeth just stand on its own.
– The shot of Philip holding Elizabeth from behind in the kitchen is a gorgeous echo of The Americans' pilot. Strong series memory like that is something I really respect.
– Welcome back to TVOvermind's weekly reviews of The Americans. The second season netted some crazy critical attention, with many writers ranking it number one on their Best of 2014 lists (it made my personal top 15). So, the bar is already high for its junior season, which gets off to a solid start here. If you have any comments or questions, please feel free to post them here. I hope you enjoy reading along!
[Photo via FX]