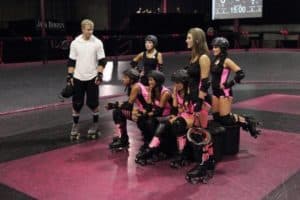 Last week on The Bachelor, Sean continued his quest to become a fully bona fide knight in shining armor when he broke a world record, made some children's wishes come true, and tended to the needs of an "injured" bachelorette, all while searching for his one true love. We get it, producers, this season of The Bachelor boasts an actual nice guy instead of the usual good guy in sheep's clothing that we've seen in the past (Hello, Jake Pavelka). The question is, will this nice guy be able to find himself a lady worthy of all his magnificence? Not if Tierra has anything to say about it.
Sean has done a reasonably good job of weeding out the crazies so far, however, as per usual, there's always those one or two that manage to slip past the radar for awhile (or in Ben's case, take the whole prize). This season of The Bachelor is no different with Amanda offering up some potential crazy material and Tierra holding the current title for "most likely to stalk The Bachelor after being kicked off." After last week's fall down the stairs, Tierra seems to be looking to keep the drama momentum going this week when she breaks down after the ladies of the house begin filling Sean in on her lack of stability. It seems a bit early for the show's biggest villain to get the boot just yet, however, so my money is on the fact that Sean will feel sorry for her being picked on.
This week, the group date heads to the roller derby, which by all accounts, is likely to end up just offering them an arena to work out their aggressions. It should certainly be interesting; especially considering the queen of mean herself (Tierra) will be competing as well. Â In addition to the group date, Sean will be heading on more one on one date, right after he saves some drowning puppies and rescues a few orphans from a burning building, of course. All in a day's work for a Bachelor, I guess.
The Bachelor airs Mondays at 8/7c on ABC.