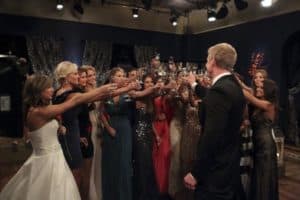 Last week, The Bachelor kicked off its seventeenth season with Texas native Sean Lowe, a familiar face from Emily Maynard's season of The Bachelorette, meeting and greeting the 26 women who had arrived hoping to become Mrs. Lowe. While a few of the ladies had their hopes dashed pretty much from the get go when he sent them packing on night one, there are still plenty left that look ready and willing to duke it out to get Sean's attention.
One surprise guest last week was Kacie B. from Ben's season of The Bachelor who returned for a chance to get to know Sean and see if there was a spark to be had. Although the other 25 women were not nearly as happy to see her as Sean, she did get a rose and will be sticking around at least until the next rose ceremony. On Ben's season, Kacie was the "girl next door" with the big heart and, while she still seems very sweet and genuine, it seems that she has learned a little bit from her past experience and will be taking full advantage of that when it comes to finding ways to get time alone with Sean.
On tonight's episode, the women will be heading out on their first dates with The Bachelor and, although they've only just met him, it appears that many of them are already much invested. While, admittedly, he will spend the next several weeks systematically breaking the majority of these ladies' hearts, it's all for the greater good and in the name of love, so that makes it okay to watch and cheer him on when he dumps the girls you knew had a screw loose to begin with, right? I say yes!
The Bachelor airs Mondays at 8/7 on ABC.