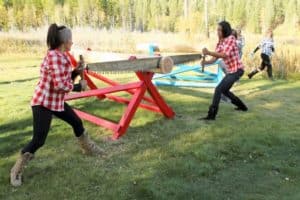 Last week on The Bachelor we saw what might have been the first real chink in resident knight in shining armor, Sean Lowe. At first it seemed that Sean might actually avoid The Bachelor clique in which the suitor keeps around a villainous bachelorette, thereby infuriating audiences everywhere, but he proved no different than all the rest in this department when he not only listened to Tierra's sob story about her torturous time with the other ladies, but he also gave her the group date rose.
There is still hope for The Bachelor, however, because despite an injury that sent her to the hospital, Sean didn't offer semi-villain Amanda a free pass and sent her packing anyway. With any luck, he just didn't want to unload so many potential stalkers in one week, and we'll see Tierra's departure coming very soon.
Tonight on The Bachelor, the group date gets physical (again) when Sean has the ladies compete in a Montana relay race that has them pushing their limits to earn some time alone with him.  Don't forget to watch both nights of this week's double dose of The Bachelor when it airs not just at its regular Monday time, but on Tuesday as well.
The Bachelor airs Mondays at 8/7c on ABC.