Last night America watched as The Bachelorette finale unfolded. ABC had promised us a 'shocking'ending, leaving much speculation as to whether or not Emily would pick anyone at all. In the end, however, she did pick someone and that someone was Jef.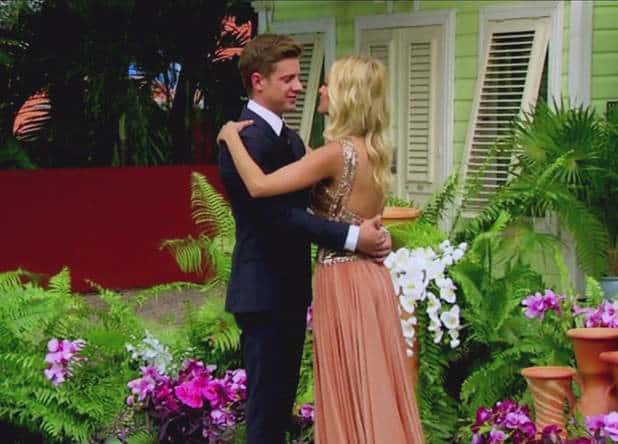 The Bachelorette finale started off like all others with Jef and Arie preparing to meet Emily's family. As with the last several seasons of the show, instead of going to the Bachelorette's home town, everyone traveled to an exotic location, this time being Curacao. Both Jef's and Arie's visits went well with Emily's father giving both of the men his blessing for their possible proposals. Oddly enough, when the visits were over, Emily's frustration came with the fact that her family liked both men too much. She seemed to have planned to base much of her decision on which of the men came out on top in her parent's eyes, but with no obvious sway one way or the other, Emily was left to make the choice on her own.
After the family visits, Bachelorette Emily planned a final date with each one of the men in hopes to get a handle on who she would choose to give the final rose. First up for his final date was Jef. As per usual, the date began on a very relaxed note with a picnic on the beach and some light hearted conversation. Eventually, however, Jef brought up the elephant in the room: The fact that he still had not met the most important person in Emily's life, her daughter Ricki.
Emily did finally realize it might be a bit much to expect a guy to commit to spending his life with her and Ricki without having laid eyes on the third member of the family. Emily brought Jef over to the place she and Ricki were staying and very casually introduced him as her 'friend Jef.'Having been a long time Bachelorette/Bachelor watcher, I can recall when Emily introduced Little Ricki to Brad, and I remember it being slightly awkward and feeling forced. This was not the case with Jef's introduction, with her warming up to him right away and according to Emily, asking if he could come over the next day.
After such a successful date with Jef, it seemed that it was going to be pretty hard for Arie to top it. Emily must have thought the same thing, because she called Bachelorette host Chris Harrison over to confide in him that she didn't want to go on the date with Arie. I guess this was the 'shocking'ending that ABC was touting in the lead up to last night's finale.
In a bit of a 'rubbing salt into the wound'move, the show let Arie still head to the date and make a love potion for Emily while waiting for her to arrive. When she showed up, she was visibly upset and it didn't take Arie long to see the writing on the wall. Through a lot of tears, Emily explained that she had already chosen Jef and that they would not be going on their date together. Although Arie was certainly upset and even slightly miffed, he handled the situation as well as could be expected and got into his SUV and left.
On the day of the final rose ceremony, Jef arrived and Emily didn't waste any time in telling him he was the only man left standing, and although Jef was obviously very happy, it didn't look like he was necessarily going to propose at first. In the end, however, he did, in true Jef fashion, poetically like it had been written out of a storybook.
At The Bachelorette '˜After the Final Rose'show, we learned that Arie had tried to win Emily back by visiting Charlotte, but out of respect for Jef and Emily, gracefully bowed out. When Jef and Emily made their first public appearance together since the engagement, they seemed genuine and downright sweet, making think this odd couple might actually work.
As another season of The Bachelorette ends, we are left wondering if this one has what it takes to last. Only time will tell, but they've already accomplished what many couples before them haven't: Making it to the final rose ceremony still in love.