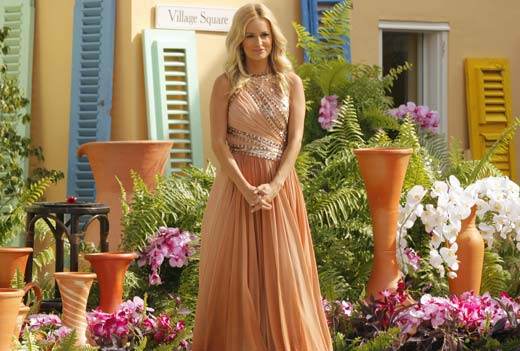 Spoiler Alert! The Article Below Contains Bachelorette Finale Spoilers.
Tonight is the night Bachelorette fans have been waiting for all season when we finally find out who Emily Maynard will choose to give the final rose…or do we?
As fans watched last week's finale preview following The Bachelorette's '˜Men Tell All'episode, Emily's torment over which man to choose was apparent, leaving many wondering if she chooses one at all. It wouldn't be the first time a Bachelorette has walked away leaving two men empty handed (I'm looking at you, Jen Scheft), so it is not beyond the realm of possibility.
Tonight's Bachelorette finale finds the remaining two contestants, Jef and Arie, in Curacao where they each have the opportunity to spend some time with Emily and her family. Both men reportedly impress Emily's parents as nice guys, making Emily's decision that much harder. In the midst of simply trying to sort out her feelings, Emily has another important decision to make: Whether or not to introduce the men to her daughter, Ricki. Emily's mother makes her opinion fairly clear when she states that she thinks not only the introductions to Ricki should wait, but any engagement plans as well. Just more fuel to the fire that makes Bachelorette fans wonder if Emily will have a happy ending after all on tonight's finale.
So will she or won't she? ABC has promised a 'shocking conclusion'and they are airing the 'After the Final Rose'episode immediately following The Bachelorette finale live for the first time in seven years. All this seems to indicate that something big happens; it's just exactly what it is that remains to be seen.
For you hopeless romantics out there and also those of you like me against a completely anticlimactic finale where everyone goes home alone, there is some hope. According to fan site Reality Steve, who has a reputation for finding out Bachelorette spoilers, Emily will indeed make a choice. Not only that, she will leave Curacao engaged to the man who she gives the final rose.
So who is Emily rumored to choose as her one and only? I'd hate to spoil all the surprises, but let's just say she better get practicing her Ollies.
The Bachelorette finale airs tonight at 8/7c on ABC.
[FLOWPLAYER=http://www.tvovermind.com/wp-content/uploads/2012/07/vlcsnap-2012-07-22-14h14m31s67.png|http://www.tvovermind.com/wp-content/uploads/2012/07/BCT810_CL2.h264HD.flv,600,400]
[FLOWPLAYER=http://www.tvovermind.com/wp-content/uploads/2012/07/vlcsnap-2012-07-22-14h14m24s252.png|http://www.tvovermind.com/wp-content/uploads/2012/07/BCT810_CL1.h264HD.flv,600,400]
[FLOWPLAYER=http://www.tvovermind.com/wp-content/uploads/2012/07/vlcsnap-2012-07-22-14h14m43s181.png|http://www.tvovermind.com/wp-content/uploads/2012/07/BCT810_CL3.h264HD.flv,600,400]