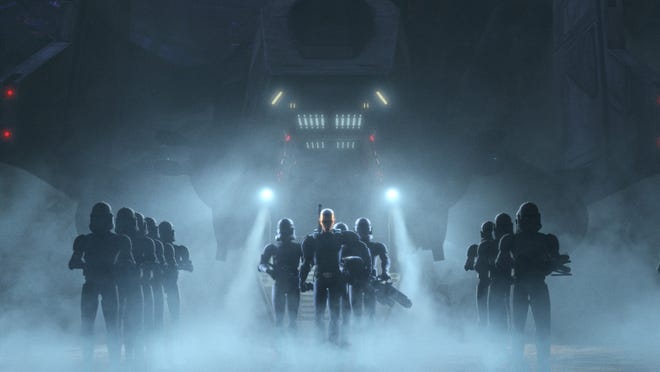 Just so people aren't caught unawares, yes, there will be spoilers for the current episode of The Bad Batch, which is streaming now on Disney+. But the last time we saw the clones on Bracca they'd been noticed after searching through one of the old Jedi cruisers. They'd also succeeded in disabling their inhibitor chips after a brief and unnerving battle with Wrecker, whose chip had activated and set him against his companions. Unfortunately, after Captain Rex, a familiar face from the Clone Wars had left to rejoin the Rebellion, the clones were noticed by the scrappers that run the place. It's curious to see the scrappers wearing what look like helmets fashioned after a certain Jedi who turned Sith only to revert back to the Jedi at one point, Darth Revan, but we'll hopefully get into that later and explore the possibilities. But unfortunately, the report delivered by the scrappers, to the Empire no less, caught the attention of those on Kamino as Crosshair announced to those in command that his former companions were on Bracca. It's not much of a surprise that the Empire wants the rogue group of clones eliminated, as they can no longer be controlled.
But despite sending three shuttles, each with a full complement of troopers, Crosshair finds that his companions are still fully capable of surprising him as he does his best to anticipate the group, cornering them in the artillery room, where they appear to be trapped and without an easy means of egress. Of course, that's disregarding the fact that Tech brought the Jedi Cruiser online and was able to access nearly every part of it, meaning he had no trouble getting the rusted and aged cannons to fire, thereby destroying the integrity of the chamber as the Clone Force 99 made their escape while Crosshair's troops were nearly buried under tons of rusted metal. It was a clever ploy to be certain, but being cut off from their ship, the group still needed to find a way to get around the other clones in order to make their getaway. Perhaps one of the worst things though was that the salvage they hoped to return to Cid had to be sacrificed by the end of the episode so that they could make their escape. This was completed when the group, trapped in one of the worst spots, one of the cruisers still functional engines, had to plant the last of their mines upon crucial points that would sever the latter part of the engine housing, thereby allowing them to escape.
The result was that the group did escape, and the engine, which Crosshair had already ordered to be fired, ended up nearly cooking the wayward clone and his own troopers as he had to take cover. Crosshair was nearly immolated, but has survived and is still after his former companions, who had one more obstacle to get past before making it to their ship. Unfortunately, this obstacle was much, much worse than a group of troopers they might have been able to outwit. Upon reaching the hangar where their ship had been docked, Hunter and Omega came upon a scene of carnage as the troopers that had secured the hangar were all dead, and the culprit made himself known shortly as a familiar blue-skinned, red-eyed bounty hunter stepped into frame, revealing a visage that a lot of people might not have expected to see. 
It's hard to say how many bounty hunters were given the information by the Kaminoans, whose true goal is to recover Omega at any cost, but it wasn't Fennec Shand that stepped out of the shadows this time. One has to wonder how many people openly gasped when they saw Cad Bane, one of the more popular characters from the Clone Wars, make his appearance to challenge Hunter. Sadly for Hunter, he wasn't fast enough as Bane put one shot into his chest plate, putting him down quickly before taking Omega, who, to her own credit tried to fight, only to be disarmed by Todo 360, Bane's droid, and companion. Despite all she's learned to date, Omega still isn't quite the fighter that she needs to be, and Bane took her without much effort. 
The last sight that was given before getting on the ship was from Hunter's point of view as blasterfire could be heard all around and the faces of his companion could be seen as they hauled him aboard, taking off quickly under fire as Hunter came to. One has to believe that the group will be going after Omega, but with at least some idea that it might mean going up against an enemy they know little to nothing about. For the fans, it could mean a trip back to Kamino, which would be one of the most dangerous jaunts yet for the group.