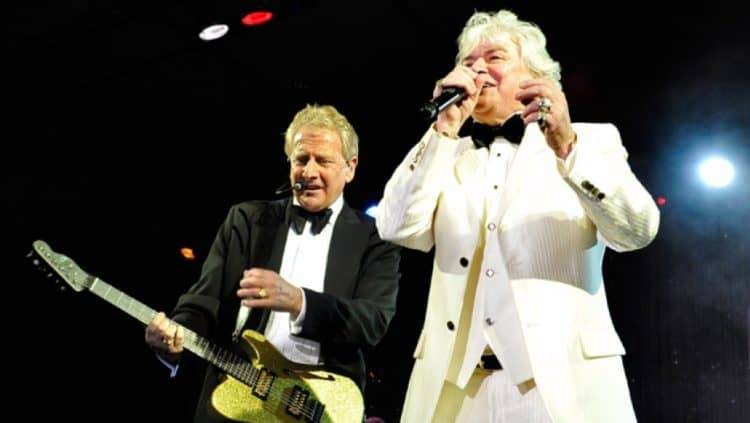 If you're wondering, Air Supply is still performing and they have managed to produce some fairly big hits since there are a few of their songs that you can't go without hearing now and again simply because they fit into so many different shows and movies. They've been through a parade of different band members over the years and have kind of waned in their popularity now and again, but all in all they are still a duo that manages to get noticed since they did help contribute to the music scene back in the 80s and they did bring about a few tracks that people found exceptional. Apart from that you might wonder who they are if you were born in the 90s or later, so it might be time for a history lesson in rock and roll on the softer side since they weren't into any real hard, edgy sounds. But they were still endearing enough to last.
Here are a few of their songs as used in movies and TV.
5. Deadpool 2 – I'm All Out of Love
The one thing you can expect about Deadpool is that there's going to be some music that just doesn't seem like it fits in the movie and then lo and behold it does since it's Deadpool, and you need to learn to expect the unexpected. The merc with a mouth is by far and large one of the most entertaining and most out of control Marvel figures to ever grace that big screen and the choice of music used for his movies thus far has been something that is both expected and something that makes a lot of fans go "huh?". That being said it's a nice change every now and then to hear something that's not so charged with adrenaline and thumping with heavy bass notes.
4. Death Note – The Power of Love
There are just some movies that don't seem like they're geared for soft rock even if there happens to be a love them within their more chaotic plot. This movie of course is all about the mysterious notebook that falls into the hands of a young man that wants to settle a few scores and make his life just a little better. The only problem is that once he reveals the notebook to his new girlfriend she gets a few disturbing ideas on how to use the power and they begin to wonder just how much they can really trust one another. That's the problem with having power over others, the trust issue is something that doesn't go away.
3. Family Guy – Lost in Love
Stewie is not your average kid, and even by genius standards he's kind of an up and down personality that's a genius at one moment and a little kid at the next. In this instance however he's channeling a little Innerspace in order to eliminate any chance that Peter and Lois will have another kid that will take up any of the time that his parents spend with him. It's kind of hypocritical actually since Stewie tends to fight off their love most of the time and tries to be completely independent. But even with all that genius and the ambition he brings to every episode he's still a baby and, well, he doesn't always think things through.
2. Ghostbusters – I Can Wait Forever
This is one of the most classic films of all time despite the fact that some people actually didn't like it when the movie first came out. Nowadays it's revered as a legend, which is funny to be honest since it would mean that other films that have been outed as being terrible (cough, cough, Ghostbusters, cough, cough) might one day be called legendary as well. We'll see about that one, but in terms of the classics and the impact they've made on our lives, Ghostbusters is one of those that can boast top-level talent and the kind of humor that not everyone understood but everyone laughed at eventually.
1. National Lampoon's Van Wilder – I'm All Out of Love
So Van isn't the typical college student and it shows since a lot of colleges might have encouraged this guy to leave in a big hurry. Of course when his dad was cutting checks without thinking about it they were probably happy to let him stick around. Despite that however there is the feeling that it might be time to leave when you can remember bands that the newest generation of students has never even heard of. If you didn't want to feel old then this would be a very poor way to go about it. Van Wilder was a great college movie in the sense that it was funny and it was shown on a college campus.
Air Supply is still around, but if you hear their songs anymore it's on film and TV for nostalgic effect.