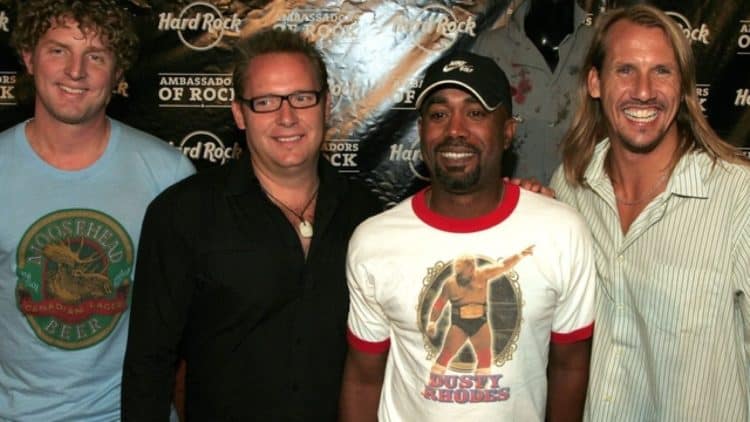 The quartet that would become Hootie and the Blowfish met when they were in college together back in the 1980s, and were brought together at first on the strength of Darius Rucker's vocals, which are still amazing if you've ever listened to the band. He's been one of the primary reasons that the band has remained popular for a long time now, and despite that his fellow band members have managed to pull their weight and make the group a strong and influential sound throughout the years. They started out doing cover songs for other bands but eventually moved on to their own tracks and continued to grow in popularity as people started to notice them and came to realize that they were something special. While they did stop performing as a group in 2008 they returned to the scene recently in 2018 and at this time are still going strong. Darius Rucker went on to have a solo career in that ten-year span as a country music artist in fact, but it would seem that he was ready to come back and get the band together again.
Here are some of their songs that have been used in TV and movies.
5. White Man's Burden – Dream Baby
White Man's Burden is an interesting movie from the standpoint of seeing how role reversals might actually affect people. In this movie the white race has become the oppressed race while black people have become the overly privileged race. While it might raise a seriously controversial argument, and it could be why the movie didn't do well, this movie did manage to show the very real inequality that so many people see fit to rail about. The whole idea of this is anathema to some people, and highly controversial to others. In truth it was kind of an interesting movie though it didn't exactly go over well with a lot of people.
4. Sesame Street – Hold My Hand
Sesame Street has a long history of being able to entertain kids and even adults and has brought on a whole host of stars and celebrities to make the points they've tried to push when it comes to education, public safety, and even good manners. A lot of us have grown up with this show and can probably remember back in the day when a lot of famous stars came rolling through the show in various skits. Thankfully the popularity of this show has endured for a long time since nostalgia and the effort to educate children have both been popular tenets of our society that aren't in any danger of going away.
3. Hootie and the Blowfish – Only Wanna Be With You
Marley & Me is one of those touching stories that the trailers usually miss telling you about since they show the most troublesome parts of owning a dog. There are hints that the movie is something that's ultimately touching but the hardships of owning a dog are great in number if anyone really needs to know. Not only are they usually dependent on humans, but they tend to get into all kinds of mischief if left on their own. The great thing about dogs though is that if they're treated with respect and love they are without a doubt loyal and return the love they're given, even if they are a little mischievous.
2. Me, Myself &Irene – Can't Find the Time to Tell You
This is the kind of movie that makes you wonder just how much one person can take before they finally snap. Charlie is a good-natured individual who takes a lot of abuse from people and yet doesn't snap back at them all that often. He buries everything down inside and just lets it go. When his wife cheats on him with a man she just met on their wedding day and then becomes pregnant with triplets he lets it go. When she leaves him with three young boys to raise he lets it go. But when the breaking point finally comes out, his alter ego, Hank, comes racing out to set a few wrongs in Charlie's life right, but in a completely wrong manner. Hank is a certified psychopath, but he's the only guy that's going to make Charlie finally face up to the problems in his life.
1. Hootie and the Blowfish – Only Lonely
Message In a Bottle is a love story that is both tragic and yet uplifting all at once. Garrett and Catherine are meant to be together as it's seen, but fate it would seem has other plans. While it takes them a while to finally realize that they're meant for one another, the feeling at the end is that she will remember him for the rest of her life despite the fact that he's been taken from her.
Fate is a funny thing, as Hootie and the Blowfish came to be by one man listening to another singing.