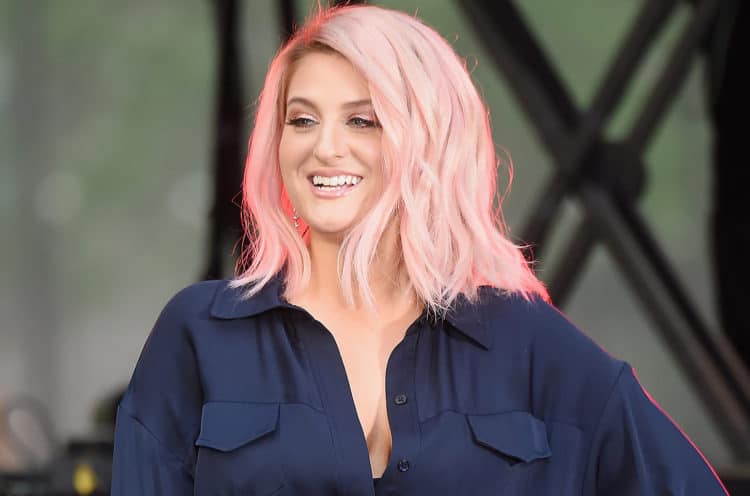 Meghan Trainor is one of those lucky individuals that has been able to learn a lot of what she does by ear. Well, maybe that's not entirely lucky since it takes a very practiced set of ears to really get a chord right and then create an entire song. But she is fortunate that her parents were quite supportive of her efforts from the start and continued to be so as she got older. Too many musicians that have started out either had no support or had parents or family and friends that suggested they either weren't good enough or would be better off singing something other than what they wanted. Trainor might not be the chart-topper at this point but she's still got a lot of skill and a stable career that has been ongoing now for several years and more. The probability of her sticking around for a while seems very good.
Here are some of her songs as used in movies and TV.
5. I Feel Pretty – Me Too
Renee is a heavier woman that has hangups about her weight and her appearance but still wants to be seen as a confident and capable person. When she falls off of an exercise bike and hits her head she wakes up thinking that she looks like a supermodel and her attitude changes immediately. With the confidence she's gained her life begins to improve and she is able to accomplish goals that she has set in the past and become someone that she always wanted to be. The problem with this is that she ends becoming the kind of person that she used to despise, and when the effect is reversed after hitting her head again she comes to realize how to be happy as who she is, not who she wants to be.
4. Lip Sync Battle Shorties – No
It's important to include kids in the kind of things that grownups have fun doing sometimes, and lip sync battles are no exception since a lot of kids love to get up on stage and dance and pretend to sing. Some of those that get up there might even have a great voice if they were allowed to stretch it out, but they still get into the effort of lip syncing without fail and impress the crowd as they cheer for them throughout the entire track. Lip syncing is a great way to just get up on stage and have fun and some of the songs that are presented allow this in a big way since they're engaging enough to dance to.
3. The Smurfs: The Lost Village – I'm a Lady
It's likely a question that has been asked many times over the years, but you have to wonder why Smurfette is the only female Smurf in the entire village. In the first movie it was found out that she was made from a lump of clay to be an evil Smurf, but in this movie she's still considered to be special, but she's not the only female. There is another Smurf village that she and several of her companions manage to find after a long and perilous journey, she is not the only female Smurf. She is the only one that was created from a lump of clay apparently, but there is an entire village of females that none of them ever knew about.
2. The Peanuts Movie – Good to Be Alive
Charlie Brown just can't ever seem to catch a break since he tries and he tries but most if not all of his efforts end up being taken in vain since he tends to trip up in one way or another when he goes to impress the Little Red-Haired Girl that he's so infatuated with. Even when he has a chance at doing something great it gets stripped away from him as though karma has a special place in store just for Charlie Brown. You could say that it works since the Little Red-Haired Girl picks him as a penpal before she leaves for summer camp. He can't believe his good fortune and just has to ask her why, to which she replies that he's one of the most honest and determined people she's ever met. So Charlie does get a win after all.
1. The Intern – All About That Bass
A lot of people tend to find that in their retirement they have to have things planned out or they get bored, lackadaisical, and even lazy. Ben however has a solution when he finds an intern job at a relatively new company that is hiring people his age. He applies and gets the job and is paired with none other than the company's founder and operator. While he waits on her hand and foot she initially doesn't even want him around, but after a while he tends to grow on her as she comes to rely on him for more than just business and begins to consider him one of her best friends.
Meghan Trainor has a lot of talent, here's hoping she's going to be around for a long time to come.