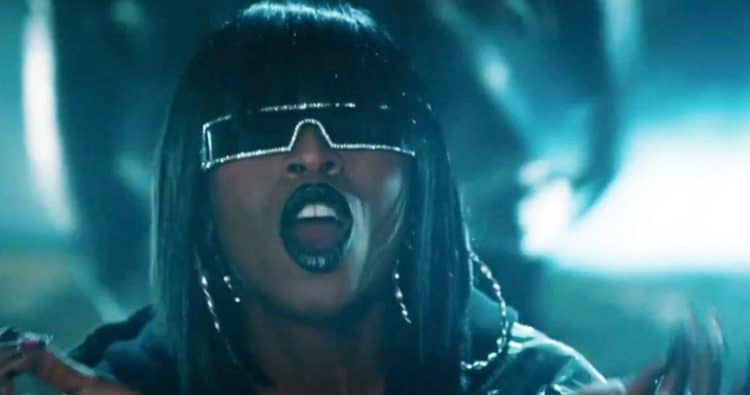 If Missy Elliott seems like a strong woman it's because she is, and she's that way for a reason. While she's had a few hardships in her life, to put it very mildly, she found her real strength when her mother took her and ran from Missy's abusive father and learned how to take care of herself and Missy as a result. From that point on the love that Missy had for music and the determination it took to see her dream come to fruition was something that became a lifelong goal for her. As you can so easily see by now Missy has put a lot of who she is into her music. As a kid she was the class clown and was kind of worried about the fact that no one might take her seriously, but as she's proven time and again during her career people are willing to take her seriously and accept the eccentricities that she's displayed throughout the years. Honestly, this woman is just amazing.
Here are a few of her songs as they've been used in TV and movies.
5. Superbowl 52 – Get Ur Freak On
Some years the Superbowl commercials are spot on and some years they're not. That's all a matter how people interpret them and whether or not the companies make them understand what people want to see. But last year for Superbowl 52 this commercial was one of the absolute best as it showed Morgan Freeman and Peter Dinklage, two stars who are understandably popular and have been on a serious tear throughout the last several years, squaring off in an epic fire vs. ice clash for two different brands. Among all the commercials this was undoubtedly one of the best since it was also one of the most anticipated.
4. Lip Sync Battle – Get Ur Freak On
A lot of these lists feature Lip Sync Battle largely because it's a fun show and it's entertaining to watch celebrities attempt to make the songs of so many musicians look either really good or really ridiculous, or both. The fact that the men get dressed up as women sometimes to take on the persona that's needed for said music is equally great since it adds something to the performance that might otherwise be lacking. Of course not everyone does this but in order to really entertain the crowd some people go above and beyond to make sure that the audience is given the kind of experience that can be called memorable.
A lot of us can remember what it was like going through high school and we can recall what it was like trying to fit in with one clique or another. Some of us didn't fit at all, and others just didn't want to belong to any one group. Honestly the latter folks are usually the ones that are better off simply because they refuse to ascribe to the pressure that's put on folks to belong, but let's not knock those that do have the life of a jock, a nerd, or any other description that they gladly take on themselves. The whole point of this movie after all is to take the moments given to you and don't screw them up, otherwise those moments are usually lost and can't be regained.
2. Stick It – We Run This
Watching gymnasts is a lot more interesting than people might think but in this movie it's great because you get a story along with it. Anyone that's ever been into gymnastics could easily tell you it's not for the faint of heart or those that lack discipline. This is a sport that is not only physically demanding but is mentally tasking as well since one's entire life has to be bent on making this work. Otherwise it's a bunch of cool skills to learn and hang onto so long as you keep practicing and stay in shape. The burnout rate for gymnasts however is incredibly high no matter what statistics might say.
1. The Rundown – Get Ur Freak On
There might be some people that would argue on this point but this is undeniably the movie that made Dwayne Johnson a certified action star. The Mummy Returns and The Scorpion King weren't much to look at apart from the hype, but this one was really what took him out of the WWE and set him on a path to greatness when it came to movies. Beck was a pretty simple guy that liked things to go the way they needed to. He was trying to find a way out of the life he was in and had one more retrieval to accomplish before he could. Unfortunately he wasn't expecting the complications that came with the job.
Missy Elliott has earned her place among the greats without any doubt and she's as good now as she was when she started.