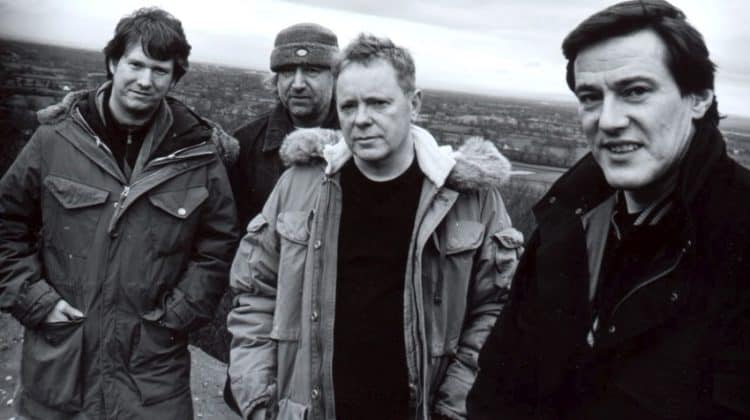 New Order was actually known as Joy Division when they first got started, but when one of their members committed suicide before they were to go on tour they decided to change the name out of respect for their fallen companion. If you couldn't tell by their sound they were one of the best known 80s bands around and their legacy is still pretty sound today since they keep being used for various movies and TV shows. But over the years they have taken a break here and there it would seem that side projects were taking precedence over the band. While they would eventually get back together after a five-year separation in the 90s it was under the condition that if anyone had an ax to grind with anyone else it would be done then and there and squashed. They did take another break from each other until 2011, after which they got back together and have been at it ever since.
Here are a few of their songs from movies and TV.
5. Trainspotting – Temptation
Somehow and some way this movie became a cult classic that had a lot of people buzzing about it. Overall it's about a young man that wants to kick his heroin habit and is having the worst time of it throughout the movie. The misadventures he gets himself into and the interactions he has with his friends and those he bumps into along the way are something right out of a junkie's bonus reel it would seem but there's still enough content within the film that it managed to appeal to a great number of people. It was even enough to spawn a sequel to be honest, but very few people seemed to take to the second one as well as the first.
4. Hot Tub Time Machine – Bizarre Love Triangle
Going back in time and landing in the 80s doesn't really seem like it would be a big win for anyone since while the 80s proved to be an interesting decade, putting it mildly, it was also a decade that many people were glad to leave in the past. But when a group of friends unwittingly travels back to the moment in time when their lives changed and led them to where they are now they find that they have a chance to make things right and turn their lives around. The only thing about this is that if you believe in the butterfly effect then it stands to reason that a lot more happened than just the drastic changes to their lives once they returned.
3. Bronson – Your Silent Face
Charlie Bronson has been called Britain's most famous prisoner for a reason. While the film has been highly criticized for its portrayal of the famed convict you can't deny that Tom Hardy did a great service to the man since he was absolutely nuts throughout the entire thing and showed just a glimmer of how Bronson became such a big personality. Despite not having come from a broken or abusive home, which again is debatable according to facts and history, it would seem that he was just born to be someone that wanted to be famous, but had to go through a very messed-up and strange process to get there.
2. The Wedding Singer – Blue Monday
A return to the 80s is always good for a laugh in some ways since back then people thought things weren't going to change, that everything was going to remain predictable and down to earth. Boy did a lot of people have some learning to do when it came time to embrace the 90s. Robbie was the kind of guy that wanted a simple life with the woman he loved, but obviously he picked the wrong one. When he meets Julia though sparks fly and then kind fail to fizzle when he realizes she's engaged and possibly out of his reach. But obviously they're compatible in ways that she and Glenn could never be, so of course he wins her over and they have a happy life together. Ever wonder what happened when they hit the 90s?
1. American Psycho – True Faith
Despite being based in a different decade Patrick Bateman and his experiences were all sort of gravitating around the 80s and the music that was popular during the time. At least it seems this way since he had a very favorable outlook on the decade and the artists that were popular during that time. If that was the only quirk about him to comment on though this movie would have been kind of boring to be honest. But once you bring on the blood, the gore, and the utter lunacy that he embodied things kind of picked up and you almost wanted to go back to listening to him talking about his favorite artists once again.
They are one of the bands that absolutely embodied the 80s during that era.