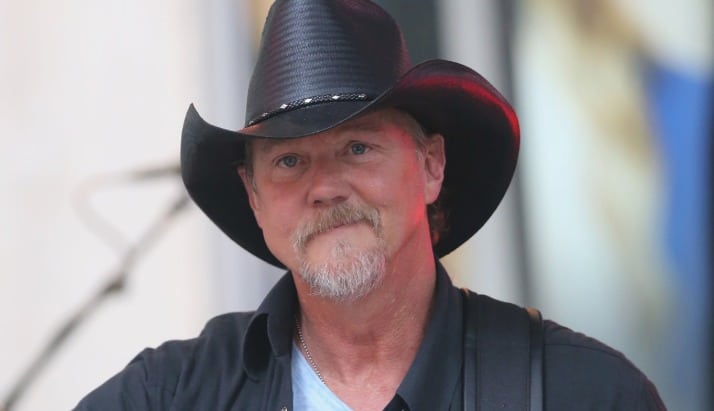 Trace Adkins has a pretty interesting back story that's also kind of tragic in spots but makes him all the more interesting since he's the kind of guy that a lot of people look up to and gather inspiration from when it comes to their lives or their desire to follow their dreams. From learning the guitar at a young age, playing gospel for a while, and then being a walk-on to a college team he's done quite a bit. He never played a game due to a knee injury, but as he went through life he did work on an oil rig, and he did almost lose a finger when he accidentally cut it off while trying to open a bucket. The doctors sewed it back on however at his request since he wanted to continue his career in music, and here he is today. The guy has more than a few stories to tell and there's no doubt that he's had plenty of inspiration for his music.
Here are a few uses of his songs in movies and TV.
5. WWE Tribute to the Troops – I Got My Game On
WWE is usually very good about making dedications to the troops and providing them with quality entertainment as much as they can. They're usually joined by a host of entertainers that want to show their appreciation and their dedication to the troops by giving them something they aren't always able to enjoy when so far away from home. Most of of the time the troops absolutely love this as it's a treat that allows them to forget that they're thousands of miles away from home and their loved ones, and can give them the chance to just kick back and relax for a while as the entertainment rolls on.
4. Country Strong – Timing Is Everything
There are times when the fame is just too much and sends a performer down a bad road that can eventually disrupt everything from their career to their life to their very health. In these times it's usually best to pull back and recover and then go full tilt, but sometimes that allows new talent to come out and take over the spot that was so coveted in the first place. Kelly is one of the many that seems to have taken fame to a dark place and separated it from the love she once had in her heart, but one thing she knows how to do is go out strong and on a high note, which is just what she does before the final curtain.
3. An American Carol – America, I Believe In You
As parodies go liberals and democrats might bristle at this one since it's a huge parody of Michael Moore and his penchant for making films that tell the 'truth' from his point of view and denounce certain things along the way. The attempt to denounce the 4th of July is met with a response that's much like that used for A Christmas Carol as the main character is visited by various historical figures that outline why America is the way it is and show him how different hings could have been if the country hadn't been shaped in the manner it was. Yes America has been raised on some scandalous and horrible things, but it's our home and it could be a lot worse obviously.
2. Black Gold – Black Gold
Black Gold was a show about a bunch of roughnecks that had one of the hardest jobs you could think of and one of those that is ultimately very important to this nation, working on an oil rig. If you factor in how many different things oil is used for and what it means to this country then you'd understand just why their job is so vital and why it's so important that they get it right. As a reality show it does offer the unreal aspect of people fighting with each other over almost nothing at times, but on an oil rig when every motion needs to be calculated and precise you can imagine that tempers flare occasionally.
1. Trace Adkins – Honkytonk Badonkadonk
Honestly if you didn't expect this to show up then you weren't thinking properly since this is without a doubt one of Trace Adkins' most popular songs. So yeah, it might offend radical feminists in a way and make them think that he's being harmful to the image of women, but it's a fun song and doesn't really go into much more than the appreciation of a woman's backside as she moves and sways. Is there really anything wrong with that? It's a fun video and song and isn't meant to be taken as anything else since anyone can sway along to it and have a good time. Truth be told, it's a personal favorite.
Trace Adkins is just a genuinely interesting person.