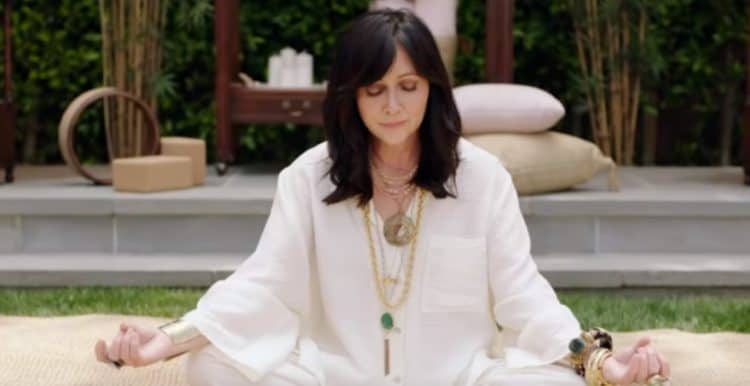 If this promo for 90210 hit you in the feels then it might mean that you're getting old since you likely remember the show when it was first popular. The good news is that you're not THAT old, but the downside might be that the next generation might be looking at the original cast and saying "who are they?" which would only make a lot of die hard fans shake their heads and wonder what's wrong with the current generation. The reboot of 90210 would probably only worsen things unless those kids growing up now were clued in to just how popular this show was back in the day and how much it affected the lives of those who watched.
Before you get too excited about this however you might want to read what Lauren Piester from E! News and others have to say about it. The reboot is kind of a reboot but not quite, meaning that the show is going to feature the original cast members as their real selves, while discussing getting back together to revive the show. You might want to say it's existential in a way but it's really not. In a sense it's another older cast trying to reclaim something that was hot at the time it came out and was something that was a phenomenon without any doubt, but has kind of seen its time come and go. Remember Dallas and how they tried to bring back that glory? Yeah, it's kind of like that but in the pre-production stage with the actors actually talking about taking on their former roles. In that sense it almost feels like you get to listen to the overall pipe dream of coming back while at the same time wondering along with everyone else if they're going to be able to pull it off.
Lucie Clark from Vogue and a few others let it be known that the slip about this show came from Tori Spelling when it came down to her telling about the reboot, and as you can imagine 90210 fans lost their minds. The fact that the five-year stint that provided little if any of the former magic of the original show had failed to really take off seemed to fly from their minds in an instant with the prospect of a favored show coming back. One has to wonder how a lot of people are going to take the fact that it's not going to be what they remember. It almost feels as though once that sinks in that a certain percentage of the fan base might feel less inclined to tune in simply because it's not the glory days all over again, but instead the cast talking about reviving the glory days….again.
Okay so to be fair the last attempt was in fact a good try at recapturing the magic of the show without trying this current gimmick. It almost seems as though trying this several years ago might have been a good idea or the worst idea possible since back then people still lost their minds when it came to thinking that 90210 might be coming back. Alexandra D'Aluisio of Us Magazine reiterates that the cast will be playing themselves but 'heightened' versions of themselves that are still scripted. So it's not like a reality show, but it is, but it's not, and….yeah. In other words they get to play their actual selves with scripts to follow and a show to try and revive. If your head's spinning don't feel too bad, it does sound like kind of a dizzying idea that only a drama could possibly be responsible for.
To be fair, 90210 fans should be thrilled to see their favorites coming back to the small screen, but it's going to be easy to notice the one absence that will be felt since Luke Perry's loss a short while back. No doubt his loss will be part of the script and will be discussed at least in part throughout the show, as he was after all one of the most noticed and liked characters that went on to do quite a few things after the program had ended. While just about everyone on the show did something at one time or another he became one of the most well-known faces that many fans seemed to continue to idolize after the show had packed its bags and moved on. It's going to be interesting to see how things get along without him, and how the rest of the cast seeks to remember him throughout the course of the coming show.
So if you're a fan then you might be excited for the show to start. If you're not then you'll likely change the channel and find something else to watch. In any case, 90210 is coming back, kind of.