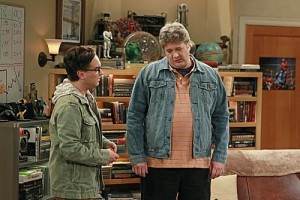 Bullying is a pretty common topic from most people's lives, especially when they were back in school. This week, Leonard faces up to a bully from his past while Penny faces up to her past as a bully. Can Leonard face up to one of his former tormentors or will he buckle under intimidation?
Last night's episode started with Leonard receiving a Facebook message from one of his apparently many former bullies, Jimmy Speckerman. He's asked Leonard out to meet up for a drink since he's in the neighborhood. Sheldon, of course, tries to get him to keep ignoring the guy but Leonard decides it might be a way to finally put to rest those bad memories of being picked on and tormented so he agrees. He's joined up by Sheldon, Raj, and Howard as they meet Jimmy Speckerman who apparently tracked Leonard down because he has this big money-making plan: glasses that make every movie you watch into 3D. There's no intention on his behalf of apologizing to Leonard and he actually thinks there's nothing to apologize for. At least not until later on when he gets drunk and realizes what a colossal jerk he's been to Leonard throughout his life and does finally say that he's sorry for the rather long list of things he's done.
It's no shocker to anyone that the boys of The Big Bang Theory dealt with bullying first-hand when they were younger. What's entertaining is that Penny realizes only now that back in school she herself was a total bully. Amy and Bernadette try to support her sudden onslaught of guilt as Penny attempts to reach out to her former victims and apologize–much to no one's surprise her apologies are rejected all around. So she decides to do something charitable and, in this case, that means donating clothing to the needy. Unfortunately for them, the clothes in the donation box happen to be cute and in Penny's size so instead of donating her own stuff, Penny winds up stealing from the donation box instead.
Back at the apartment, Jimmy's sleeping off his hangover on the boys'couch while Leonard and Sheldon eat breakfast. Of course when Jimmy wakes up he has absolutely no memory of saying sorry and promptly goes back to his old ways. You do not steal Leonard's French toast and it finally inspires him to say enough is enough when he stands up to Jimmy–a man who's easily a foot taller than Leonard and much larger. Needless to say one of the funniest moments of the episode was Leonard and Sheldon running down the many flights of stairs in their building while still in their pajamas. At least Leonard can say he finally stood up to a bully, even if it didn't exactly work out.
Meanwhile, Penny takes the girls with her back to the donation box the next night for '˜a new load'. She, unlike Leonard's bully, is finally able to see that it's wrong to steal the clothes and puts back what she was about to take. Penny and Amy leave the donation box, but not before Bernadette walks back to claim some suede boots in her size of course. Both Leonard and Amy learned that dealing with your past isn't always an easy thing. It was believable that Penny was a bully to other girls in high school ,and in classic Penny fashion, she didn't so much deal with her problems as she just shrugged and moved on from them by episode's end. As for Leonard, I have to agree with Sheldon that he would have avoided so much grief had he just ignored the Facebook message in the first place.
Favorite Quotes
'I believe you're capable of great change, like when I finally got you to stop saying 'Valentime's Day.'–Sheldon to Penny.
"I'm going to go see him and say all the things I should have said in high school: pick on somebody your own size, oh you did not have sex with my mother, and yes I DO know why I'm hitting myself!'–Leonard wanting to stand up to Jimmy.
'The Newcomb medal? Please, that's the scientific equivalent of a smiley face sticker on your homework."–Sheldon mocking Leonard's accomplishments.
'I was just following Penny into a life of crime and looking forward to the day we might be cellmates.'–Amy as they prepare to scavenge in the donation box again.
'It's okay I serve soup to poor people!'–Bernadette's reasoning for why it's okay for her to go back for the boots.