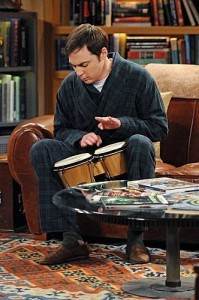 One of the most amusing character traits about Sheldon Cooper is his obsessive need to stick to his routines. Of course, what's amusing to a few is just as frustrating to everyone else as the man can't do anything outside of its planned day or without the right person. When Sheldon's regular barber winds up in the hospital it winds up leading him down a path to his own version of unplanned chaos.
The merits of Sheldon taking a break from his usual way of acting can be argued, but it's always fun to get to see Jim Parsons do something on the show that he hasn't before. You can clearly see him enjoying himself in scenes such as Sheldon up at three in the morning disruptively playing bongos. It also gave Leonard the chance to finally get to call out the roommate agreement on Sheldon for a change even if it was reliably dismissed by the latter's logic about no rules existing within chaos. When this new Sheldon even started to annoy Amy it became clear that someone had to lay down the law and at least have him get his hair cut which was what started the madness in the first place. As usual, it's Penny who convinces Sheldon to let her do it and things go well enough until…well, let's just hope that Sheldon can remain oblivious to the patch shaved out of the back of his head.
I was watching the syndicated earlier seasons of this show right before the new episode and what a difference a few years makes for everyone involved. Specifically for Penny who really hasn't had much of a storyline of her own in quite some time. No, sort of being with Leonard every other episode doesn't count (even if she gets to beat him at chess much to his confusion),as there was a time when she had a full life of other things going on. Lately we never hear about anything–rarely even an acting audition or mention that she's still doing that. Did she give up on it off-screen and that's why she sucks down wine in her apartment almost every time she's there with the girls? Maybe that's something that could change by the end of the season, but I tend to doubt it as she's been relegated to the sidelines along with Raj who was barely even in the episode.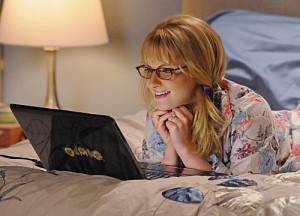 As for Howard, he was off at the NASA training camp proving he had the right stuff for his space mission. Actually he was off being a physical wreck from the endurance tests required to become an astronaut. The majority of his interactions in the episode were with Bernadette via webcam and he definitely got to deliver some of the funniest lines of the night. Picture what it would be like to get motion sickness in zero gravity conditions and you'll have an idea of what Howard went through. Despite all of the obstacles he's facing, it's commendable that Howard wants to stick to this and fulfill his childhood dream of going into space. Bernadette showed why she's such a good girlfriend as she decides to go stay with him to support him during his training–no one should have been remotely shocked that Howard's mother seemed to have already been there all along. What, you didn't think he'd leave his mom home alone by herself, did you? Oh how I can't wait to see what Bernadette and Howard's living situation will be like after the wedding as I'm sure that his mother will continue to remain part of it.
It's strange to even write that, but if there's something about this season in particular, it's that the gang has had so many separate storylines this season. Usually paired off by couple and I guess that's part of the boys (and girls) growing up. Howard's going to be a married man soon, and who knows where Leonard/Penny and Amy/Sheldon will wind up in another season or so? For now it's been fun to get to focus on the smaller segments of the group and the new dynamics they have with one another, but let's hope they have the chance to go on a few more escapades as the full group by the finale.