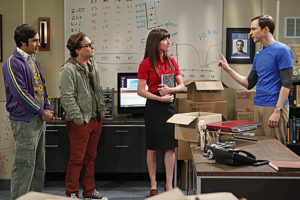 Amy's feeling very green in tonight's all new episode of The Big Bang Theory.  When Sheldon discovers that he needs an assistant for work he goes on the search for the perfect one.  Penny is immediately dismissed as a possible candidate, despite volunteering for the job.  But when Sheldon hires a pretty young woman, Amy's jealousy rears its ugly head.
In space, Wolowitz is starting to realize that there are some benefits to being back on earth.  Like gravity.
Watch a preview below for tonight's all new Big Bang Theory, airing at 8:00 p.m. ET/PT on CBS.