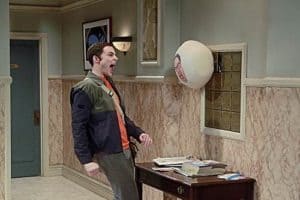 The Big Bang Theory is celebrating Halloween tonight with a few old-fashioned spooky tricks.
Sheldon tries to scare his friends for Halloween as payback for their own pranks against him. But it looks like the joke's on him, because he's far more easily scared than they are.
Meanwhile, when a cute comic book artist appears, Leonard and Priya's relationship is tested.
Check out a sneak peek for tonight's all new episode of The Big Bang Theory below, featuring Sheldon encountering some bleeding walls, a glowing skeleton and an alien. Â Note that this episode is scheduled to run an extra minute long, so make sure to adjust your DVRs!