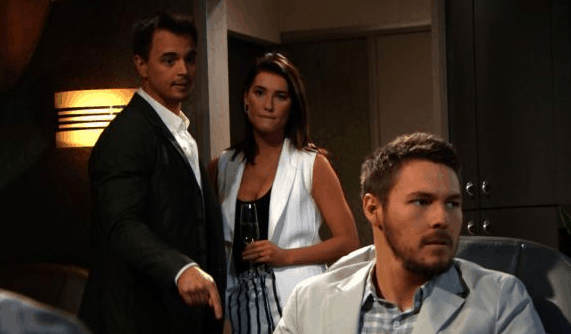 The Bold and the Beautiful fans are able to see so many people come and go and make their way through LA on a regular basis. Some of those people work out for the long run, and some don't. It's not always obvious when people come onto the show for the long-term, but it really often depends on how fans feel about those people and what it means to them. If you like a character so much that the show realizes fans are in love, they might just bring that character in for a longer period of time, but sometimes that doesn't work. Sometimes, you cannot get on board with a character at all. They show up with the sole purpose of making your life miserable from the start, and they work their way into your hearts. We can't figure it out, but we do know there are a few characters who showed up in LA at some point or another, and we didn't like them. But, now, we love them.
Sally
She came into the show a few years ago to make everyone miserable. She was not a fan of the Forrester family. She was not a fan of anyone. She was her grandmother's granddaughter, and her attitude was just as bad. She came into the show with a chip on her shoulder thinking she would come into LA and turn the Forrester family upside down while simultaneously working her own magic on her own life. She would become the next big thing. She would destroy them. But she only destroyed herself. She only made it difficult for all of us to like her, and that was a problem. But, then, she left. She came back, and we fell for her. Actually, we fell quite hard. She went from being someone we dislike significantly to being someone we like more than most people. She's made it possible for us to love her, and now she's one of our favorites. In fact, we are all horrified that she's been hurt by Wyatt, and we kind of dislike him for that now.
Zoe
Let's be clear about the fact that we still have a major problem with her, but we cannot help but like her. She came into the show as a woman who was obsessed with her ex and wanted him back. She would do anything and everything in her power to win Xander back, to take him from Emma, and to make him hers. She was made out to be someone with some serious issues, and he even told everyone how horrible and not quite normal she was when she showed up. But, then she changed. She still managed to get him back, but she became likable to the point that we are all happy that Xander decided to ditch Emma for her. Maybe Emma was just so unremarkable that we preferred Zoe by default. We don't like that she's keeping this secret from Hope and Liam and everyone else, but we cannot help but like her so much more now than we did when she first showed up in LA.
Bill
When Bill first came to LA, it was with some big problems. He was a mean man. He was a man who was there to win his life and make everyone else miserable. Let's be clear about the fact that he is clearly still this man. The difference, however, is that he has grown on us. What's not to love about him? He is himself, and he is unapologetic about it. He makes no apologies for his life. He makes no mistake in letting people know he is who he says he is, and that he has something to offer most people don't have to offer. He's still mean. He still does what he wants. He still doesn't have any regard for anyone else. But he is a man who also owns that, doesn't make up anything about himself that isn't true, and doesn't surprise us in any manner. He's a man who owns himself. And we love that about him. What's not to love? He's amazing, and we'd never want to see him go.