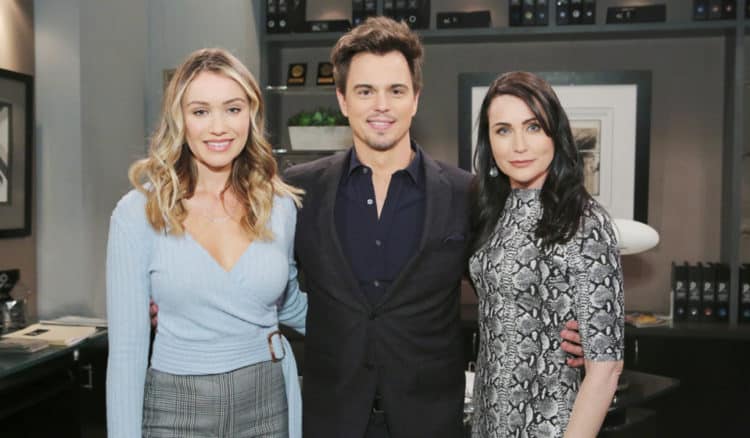 The Bold and the Beautiful fans know that love happens all the time around here, and that's all right because we love love. Love is good, love is kind. Love is beautiful and wonderful and it is a thing. But, it doesn't always work out for the people of LA. They are so consumed with their own lives and their own situations that they don't always have what it takes to be the kind of people they need to be for the people they need to be there for. And that's why so many of the couples we think make beautiful couples never really work out. That's a shame, though, and we want to see what we can do to make that stop. Can we find some peace in knowing that some couples are just better than other ones? Can we find some peace in knowing that some couples might still have a chance? We think these couples have what it takes to become power couples.
Brooke and Bill
Okay, so this is not something that we think may people want to see. We honestly think that some people prefer the idea of seeing Bill with Katie and Brooke with Ridge, but these two would make a power couple like no other. They are both very ambitious and they want what they want more than they want anything else, and we totally get that. We get that they are looking to have a life that they can share with others, and we like that. But, they aren't together despite our desire to see them make it work. There's always time, of course.
Taylor and Ridge
They're both successful, but they don't have quite the same ambition as Brooke or Bill, which we think makes them seem a little more like a good couple. They like what they do, they have kids together, and they both put their kids first all the time. They make a great team, and they do have such a lovely friendship with one another. We think they make a much better couple than they do otherwise. But, they aren't together. Is there a chance they could be at some point if they're able to make it through? We are not sure, but we do think they have a chance at being at least a potential future couple. It's not like we think Brooke and Ridge will stay married this time, either.
Wyatt and Sally
Wyatt and Sally were everything we thought we wanted in a couple, and we still believe that. We don't care if he doesn't. He's making a mistake, and it's mostly as his mother's urging being with Flo. He kissed her, and then he got mad at Sally for keeping Thomas' secret about his feelings for Hope, and then he ended things. We think that he let his mother get to him and mess things up for him – again. But, of course, that is how she rolls all the time. But, these two were perfect together because they did stay out of the drama and the lives of others. If they can find their way back to one another, we think they could do great things together.
Steffy and Bill
This one might not seem like a very popular opinion, but we kind of love it. We think that they are amazing and beautiful together in a strange kind of way. She's good for him because she can make him feel things no one else can. For example, she's a lot more powerful than him in that she seems to have a serious hold over him he cannot get over. She's too young for him, of course, but she can control is needs and wants and make him a better person if we had to guess. They are also both powerful men and women who can help one another get to the top. They are both who they are, and they don't make any apologies for that. Unlike Brooke, Steffy knows who she is and what she is, and she doesn't bother making excuses or blaming her imperfections on the behaviors of anyone or anything else. She's got what Bill has in terms of her personality, and it works.