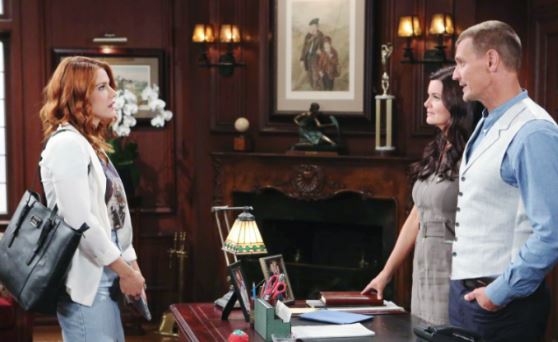 The Bold and the Beautiful fans know that some couples are good and some are not. They are sometimes great couples, and sometimes those couples aren't as good as they let on. Sometimes they have issues of their own that they don't really know how to work through. Sometimes they have issues that they don't really know how to get past. Sometimes they are just not good together. Other couples are great together, and they make good choices and remain friends – but we can't figure out who those are at the moment. It seems to us that most people in this community are just better off as friends, and that is all there is to it. There is nothing holding them together or keeping them in their situation, and that's all there is to it. We think these three couples are much better off as friends than they are a married couple.
Liam and Steffy
They are a couple that seems to be good together, but they aren't. They are not a good couple and they don't really work for us when it comes to them working as a couple. But this is where things are about to get a little bit more complicated, because we do like them better than we like Hope and Liam. Hope is too nice for Liam, and that makes them boring. Not that he is not a nice guy, but he's not nearly as nice as she is when it comes to being a good person. He's too indecisive for either of these women, but there is no way he can hold down the fort with Steffy. He needs to just grow up and move on with his life like  a normal person who has to get it together. We like them together, but we really like them as co-parents and good friends more than anything else.
Liam and Hope
They are married, but we don't like it. We have to be honest when we tell you that this is not a marriage that works for us in any way, specifically. The fact of the matter is that his marriages to Hope have never worked out. He's always been in this so that he could be with Steffy. He's always left Hope behind and chose Steffy when he had the chance. He's not been someone who has had the good sense to stick with just one woman. He's been a man who has been able to get his life together a little more this year than he has in the past, but he's really not been someone who has been able to get it together entirely or in a way that doesn't make it make sense. He's not good with her, and we don't think that he can make that any different. They don't have the same kind of passion he has for Steffy, which is where it's at. Really, he's just not enough of a man for either of them.
Bill and Katie and Brooke and Steffy
We just want to point out that we are not sure that Bill works with anyone around here. He's just not the man who wants to be with these women, and they are not the women who need to be with him. He only needs to be in a relationship with himself and his bromance with Justin. They work well together because they have the same desires in life. They have the same wants, needs, and they don't seem to care overly much who they hurt or what they are doing. It's all right, though. We are fine with that. What we do think is that he's a man who needs to spend his time with someone else who doesn't know him, doesn't have kids with him, and probably isn't married to someone else at the same time. That's where he's bad about falling off his own personal wagon. He can't seem to get it together enough to stay with a woman who is good for him rather than one who is already married – to his own son, for instance. It's all ugly, and he is best and happiest when he is by himself and without anyone else in his life.