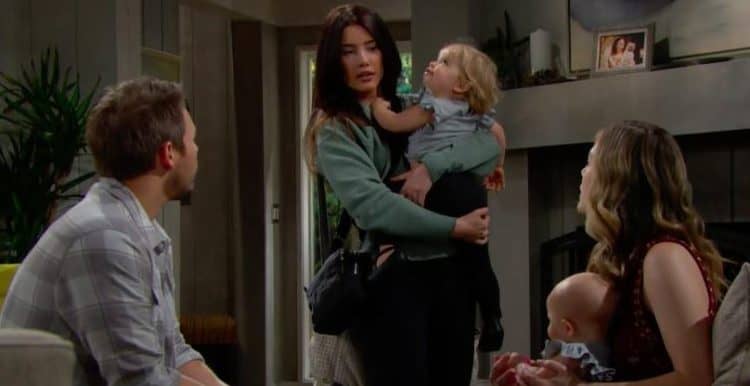 The Bold and the Beautiful fans are having a hard time getting through what is going on in Steffy's life right now. We watched as Liam and Hope told her the truth about baby Beth. She heard the entire horrible story. She is crushed. She is crushed that this was something Liam and Hope had to live through and experience. The idea that their baby was dead when she was not is something she is so hurt for them for thinking. But, she is also unhappy about this news. While she's happy that their baby is alive and well and that they can be happy, she's losing her own baby as a result. She didn't know this baby was their baby. And she's so crushed to learn that baby Phoebe is Baby Beth and that her life has to change so much as she is living this nightmare. And she is not going to give up without a fight. She adopted this baby, and she wants to keep her.
Brooke, on the other hand, is going to do anything and everything in her power to find out the extent of the truth of this lie. How did it happen. What happened. When it all began. How Flo, Shauna, and Zoe became involved in this. And she's going to lose her mind when she learns the extent of this lie, all the people who discovered it and lived with that knowledge, and we think that it will make her wonder about Emma and her untimely death. This is a big situation, and we know that so many people have been affected by it, and she's not letting these three women out of her sight until she gets what she wants from them; all the answers, and all the information that leads them to the truth. It's going down.
What's Happening on the Bold and the Beautiful
Do you think these two will ever be a happy couple again? #BoldandBeautiful pic.twitter.com/sYm4jc1dzU

— Bold & The Beautiful (@BandB_CBS) August 7, 2019
Ew. Do we want them to be happy again? The answer is NO. Team Sally.
What's Next on the Bold and the Beautiful
One woman's miracle becomes another woman's heartbreak. 💔 It's a can't-miss week on #BoldandBeautiful! pic.twitter.com/C14G0jGUvM

— Bold & The Beautiful (@BandB_CBS) August 4, 2019
Ridge is usually one who lets his wife handle the issues they are having as a family, but he cannot keep it together as he listens to Flo and Zoe fill them in on what went on and what happened with the baby that his daughter adopted. He's furious, and he's not done letting them know this. He will not stand for any of this, and that's what it is. He's going to lose his mind about this, and we get it. He's going to have a lot going on in his mind, and it will not make for anything good. He will verbally attack them and their character, and we will go out on a limb here and say that whatever he has to say to them is probably not wrong in the least. It seems like a real thing, and we get it. But, for now, though, we see that things might not work out so well.
The entire family is about to become divided. This baby belongs to Hope and to Liam, but Steffy feels that because she adopted her and raised her, she should keep her. The entire family is torn on this one, and we imagine that they will not find a way to feel better about it or overcome this. We know Steffy needs to give this baby to her rightful parents, but we also get that she doesn't want to. She didn't know this baby was theirs, and she doesn't want to give her up.
Stay tuned for more The Bold and the Beautiful and be sure to check out TVOvermind daily for the latest The Bold and the Beautiful spoilers, news, and updates.