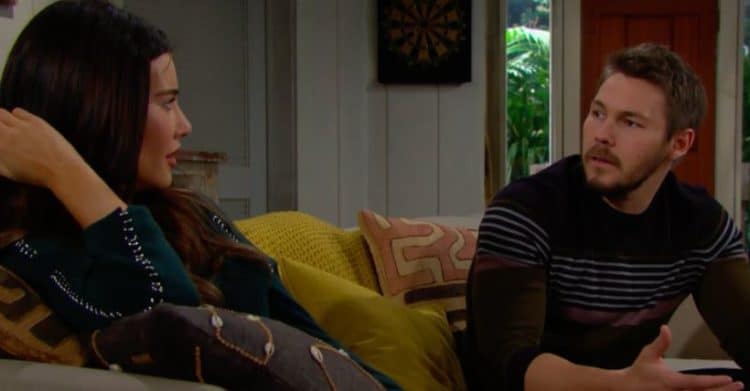 The Bold and the Beautiful fans had some mixed reactions to what happened when Reese leaned in and kissed Brooke. It turns out, she's into him too. And that's not what some fans want. We think that some fans want to see her happy, but they want to see her happy with someone else. They want to see her happy with the man she was happy with once before. They want to see her with Ridge, even though we all see that as a terrible match not made in Heaven at all. There is nothing that we like more than seeing some happiness in this situation, but we really don't want to see anyone else going through what they are going through. While we do think that they might end up back together at some point, he's got a wife and she's got some bigger problems. Perhaps the kiss she and Reese shared will help her get her life back in order and make things more productive for herself.
And then there is the moment that we all sat back and watch as Zoe and Xander spent a very intimate moment together, but they were interrupted by Emma's friend, Tiffany. And then Reese interrupted them a second time. It might not be what it's meant to be, and this should be a wakeup call for Emma and the feelings she has for him. She's not getting him in her life, and he's not into her. He might be into her a bit, but it's not enough. He's not that into her that he will go out of his own way to make sure he's going to live and breathe the world as it stands. We think that there is a lot happening here, and we think that this is something that might work.
What's Happening on The Bold and the Beautiful
Happy birthday to the legendary Bob Barker! It was an honor to have you as a guest star on #BoldandBeautiful. ❤️ Give him some birthday love! pic.twitter.com/yarIbHYs7K

— Bold & The Beautiful (@BandB_CBS) December 12, 2018
Who doesn't love a famous face when he appears on the show? This one is just one of the most famous and most fantastic, and we love it all.
What's Next on the Bold and the Beautiful
The sure bet, the ace in the hole and the wild card 💥 Don't miss a minute of #BoldandBeautiful this week! pic.twitter.com/ogaVPmjQ6R

— Bold & The Beautiful (@BandB_CBS) December 9, 2018
Brooke and Hope have to have someone to argue with all the time. This time, they are arguing with one another, even though that is not their normal. They aren't usually a problem with one another. They usually take their anger out on other people, and not out on themselves. However, this is one of those times when things will happen for a reason. But they are not happy, because someone wants to tell Donna and Katie about Taylor, and the other doesn't think it's a good idea. We want to know who is who, too, but we aren't sure. It's actually funny to us that we have no idea which one of them wants to share this news with the other, and we cannot wait to see this all unfold. This might be one of those things that just doesn't work.
However, we also think that this might be one of those things that works well and good for everyone. Perhaps there is a way we can all get this situation to work out for the best if we let it unfold. Steffy and Taylor might be worried, but they are mostly in the middle of wondering what might happen to Phoebe and that situation. They have a lot to deal with, and we aren't sure that they can fully focus on what is going on in their lives. They are just working on getting through what's going on right now, but we hope that they can get past this faster than they seem to have been thrown into it.
Stay tuned for more The Bold and the Beautiful and be sure to check out TVOvermind daily for the latest The Bold and the Beautiful spoilers, news, and updates.