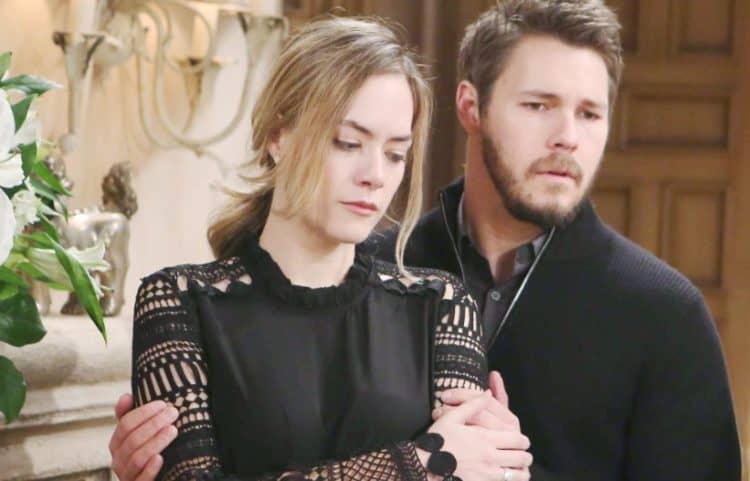 The Bold and the Beautiful fans never thought they'd see Brooke and Taylor getting along, but here you go. The death of Hope and Liam's baby has encouraged them to put their differences to the side so that they can move on with their lives and make things better. They have to be there for their daughters. This might not be the baby that Steffy had, but this does affect her and her life, too. Her ex and the father of her own little baby girl is suffering, and that does affect her. Kelly's father just lost a baby, and Kelly just lost a sister she will never know. That's a devastating and horrible situation. And even though this baby has no official relationship with Steffy, it's her step-niece and it's her daughter's half-sister. This is tragic situation for all of them, and we get that these two moms need to work together to make this work in their lives.
Things aren't working well for Reese, either. He's working very hard to ensure that things work for them in some way, but that's not always the case. His daughter is being threatened by someone he's not sure if he can trust, and he's worried. Zoe doesn't know precisely what is going on at the moment, but there is so much that she's aware of. And he has to keep her safe. Taylor is going to do what she can to make sure that things work out for him and she's going to be there for him. She's offering her support, but her own family is going through a tragedy at this moment in time, too. And that's something we don't like to see happen. They are all in a bad place at this moment, but that will have to wait.
What's Happening on The Bold and the Beautiful
♥️♥️♥️ #BoldandBeautiful pic.twitter.com/eFgo0CXlcD

— Bold & The Beautiful (@BandB_CBS) January 9, 2019
We've said more than once that this situation will go one of two ways. It will bring these two closer together, or it will tear them apart. Where do you stand on this one?
What's Next on The Bold and the Beautiful
Liam and Hope say goodbye to the daughter they will love forever. 💙 Join them this week on #BoldandBeautiful. pic.twitter.com/J4hjePN9QS

— Bold & The Beautiful (@BandB_CBS) January 6, 2019
Brooke is nothing if not a fierce mother bear when it comes to her sweet daughter, Hope. She is closer to Hope than anyone else, and that is where she feels her loyalties must lie right now following the loss of her daughter's daughter. She is going to make it abundantly clear going into the weekend that it is her daughter who is her priority. She's making sure this is clear to both her husband, Ridge, and to the man who is fighting to be with her, Bill. She wants them to know that this is not the time for them to bother her with their petty arguments and their demands of her time. She wants them to know that she needs to be here for Hope, and that is her only concern at the moment. She's fierce about that, and we get it.
Reese is also in the market to make some life changes. While he's trying to manage what is going on in his situation otherwise, he's also looking to do a few things that will work for him in a positive manner. He's looking to make some changes that might just make things work in his favor, including the fact that he wants to show Taylor how much he cares for her. She is someone who has grown on him in a way that he's unable to describe, and he likes it. He likes knowing that she is there for him and that they have something to work on. She's someone he really cares for, and he's going to prove that.
Stay tuned for more The Bold and the Beautiful and be sure to check out TVOvermind daily for the latest The Bold and the Beautiful spoilers, news, and updates.