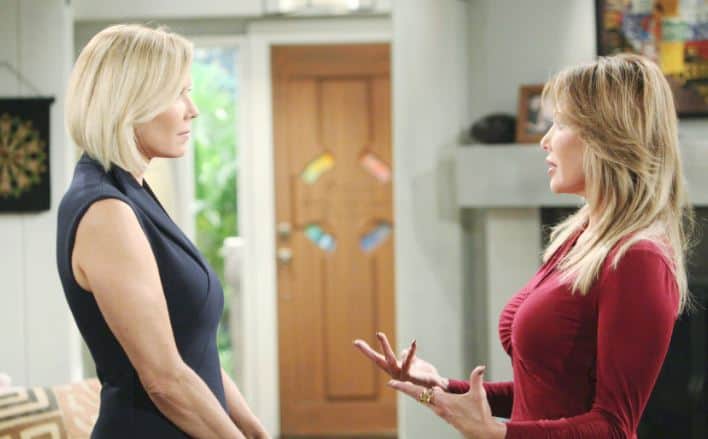 The Bold and the Beautiful fans are all on board with what Pam is working on. She's working behind Quinn's back every single moment she can find the time right now. She wants to be sure that she is able to get her situation under control, so she is working on making sure that Donna can do anything and everything in her power to get Eric back for herself. Pam doesn't have a great history with Donna, either, but she likes her more than she likes Quinn, and that's a start. There's a lot happening around here that might just make this all more interesting, and we cannot wait to see it all unfold in the near future. We cannot wait to see these people get in their own way, make things worse for themselves, and make their situations even more precarious than they were in the past. It's been interesting to say the least.
On that note, we also had a big moment when we saw Brooke and Taylor decide they want to have a talk. They didn't really talk so much as they yelled at one another, but you get the point. They did a thing where they made it their mission to spend some time yelling at one another about how they don't want their daughters to have this relationship with one another. They want things to be better for their girls, but that's not the case for them in the moment. There really is nothing worse than what they are doing to one another, but they are having a major meltdown right now. We think that it's up to them to come to some sort of agreement about the way things are and the way they will be, but we don't know that they can do it easily.
What's Happening on The Bold and the Beautiful
Did you catch our special #BoldandBeautiful Facebook live with these five? Check it out here: https://t.co/u7VuD8H8Mw pic.twitter.com/EzdEKX1qJ9

— Bold & The Beautiful (@BandB_CBS) December 4, 2018
We love this, and we think that you should have tuned in to see this. They are the girls of the Logan family, and we do love them so much.
What's Next on the Bold and the Beautiful
A truth bombshell leaves everyone running for cover this week on #BoldandBeautiful. 💥 Don't miss it! pic.twitter.com/ZduCY0PDOY

— Bold & The Beautiful (@BandB_CBS) December 2, 2018
Pam is such a manipulative person. She is going out of her way to make sure that she takes down Quinn and her life as she knows it. Pam has been part of Eric's life for most of his life, and she's counting on that to make sure she can get him to break up with his wife and move on with someone who he was with a long time ago. She wants him to rekindle his old romance with Donna, who is now her working mate. And she's going to help her out by making sure to set up a session in which Donna models some of the new items – the smallest ones, we're sure – for Eric in a private room while Quinn is too busy doing something else to be there. And guess who will keep her too busy to know what is going on behind closed doors? That will be Pam.
Furthermore, we know that Brooke may end up speaking with Bill again, because she's going to find out that he has no interest in pressing charges against Taylor for what she did. She must go to him and ask him what he wants to do now that she knows what is happening. And he will tell her he knows and that he chose months ago to let this go. She will not be happy, and we can promise you that it will turn into something more than a little bit ugly for everyone who is here.
Stay tuned for more The Bold and the Beautiful and be sure to check out TVOvermind daily for the latest The Bold and the Beautiful spoilers, news, and updates.