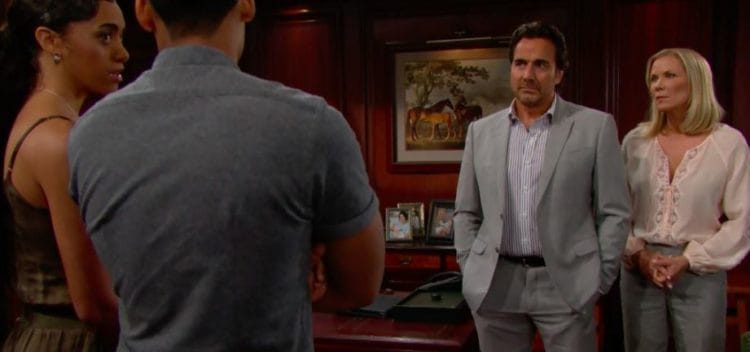 The Bold and the Beautiful fans are still shaking thinking that Thomas can even think for a second he still has a chance with Hope. She didn't marry him because she was madly in love with him and could not live without him. She married him because he is the kind of man who wanted a mother for his child. She was a woman who lost her own child, and she wanted to be a mother. She married him to be with his son, and that's all. Now that she knows that he was aware of the fact that her own baby was not dead and that he used that and his own son to get her to marry him, she's done. And yet here he is still thinking he has a remote chance with her.
Meanwhile, everyone is either thrilled beyond words or crushed beyond belief. There is not a moment of in-between for anyone. The entire Logan family is a mixture of both. They are both excited and happy for Hope and Liam and baby Beth, and they are crushed that these horrible men and women would hold on to a secret like this – or that they would even do it in the first place. Bill, on the other hand, is just so happy for his son that he is a father to this little girl for real – and not just because his ex adopted her and wanted him to be a father to both of her kids equally since they are, in fact, sisters. Of course, the girls are still sisters. In fact, they are more sisters now than ever before, and that is a beautiful thing in a kind of crushing way. Excuse us while we continue to feel sad and upset by this.
What's Happening on the Bold and the Beautiful
Get to know even more about some of the #BoldandBeautiful stars with our co-star quiz! Join in on the fun by answering the question from @CliftonsNotes at the end. 🌟 pic.twitter.com/jmNorRFG74

— Bold & The Beautiful (@BandB_CBS) August 14, 2019
This seems like fun.
What's Next on the Bold and the Beautiful
Add a splash of fun, a hint of trouble, and a jolt of excitement to your HOT summer five days a week. ☀️ Tune in to #BoldandBeautiful weekdays on @CBS. pic.twitter.com/VPHsKG5BqW

— Bold & The Beautiful (@BandB_CBS) August 13, 2019
Flo and Shauna are doing all they can to find out if they can save their status with the Logans and the Forresters, but we assume they are wasting their time. They are going to spend their day sneaking into the cabin that belongs to Brooke so that they can share their news, their side of the story, and try to get some forgiveness. They don't seem to realize that Flo took a baby from Hope and Liam and pretended it was her baby, sold it to Steffy in a private adoption as her own child, and then lied to everyone about it for months on end. She knew, and she shared nothing with them. She could have come forward when she first found out that it was Hope's baby, and she might have had a chance of future forgiveness. She did not, though.
Then there is the entire Logan family. All the sisters are there when this happens, and they are going to sit back and they are going to let Hope go crazy on Flo as they make sure Shauna stays out of it. They are not impressed by any of this. They are not the kind of people who make good decisions. They are not the kind of people who do good work. They are not the kind of people who make anyone happy. But, they are the kind of people who do anything they want, anytime they want, and they don't seem to care about anyone else. It's ugliness, and they are owed this behavior from this family.
Stay tuned for more The Bold and the Beautiful and be sure to check out TVOvermind daily for the latest The Bold and the Beautiful spoilers, news, and updates.