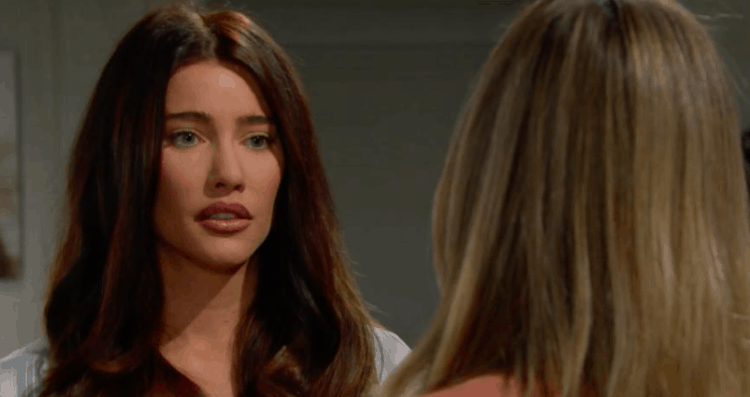 The Bold and the Beautiful fans know that Flo is in the middle of rekindling her love for Wyatt, and that he is falling right into her situation. There is nothing about this that makes any of us comfortable, and that is really the thing that is going on right now. She knows that he and Sally broke up because he felt that she was not honest enough with him, and now here she is working her way back into his life while also not being very honest with him. He is not someone who wants to be with someone who will hurt him, and he is working on a new relationship with a woman who will hurt him and everyone else he loves. She lied about a baby being hers. That baby was Hope's, and she willingly stole that baby, sold it to Steffy, and knows that this baby is really the baby that Hope and Liam gave birth to. It's hard to watch her make him fall more for her.
Then there is Hope, who is about to ask Steffy for something really big in regards to Liam. We are shocked that she would go out of her way to make this happen, but she's in the middle of focusing on things that go her way, work for her, and make things happen. She's got so much in her mind, and she's got so much to work for that she is unable to figure things out on her own. She's trying to do the right thing, but the right thing is to leave her husband either totally alone or to stay with him and face their future together. She cannot make a decision, however, and this is a problem for her. Right now, though, she has a decision to make.
What's Happening on The Bold and the Beautiful
Have questions for @CliftonsNotes, Annika Noelle, and @JMattAtkinson? They'll be live TOMORROW at 1:00pm EST/10:00am PST to answer them! 👏 Tune in on the #BoldandBeautiful Facebook page. ✨ pic.twitter.com/kZmhhPz5wx

— Bold & The Beautiful (@BandB_CBS) May 27, 2019
This is going to be amazing.
What's Next on The Bold and the Beautiful
The lie destroyed them. Now will the truth be told? Find out this week on #BoldandBeautiful! pic.twitter.com/iMCvk3oRud

— Bold & The Beautiful (@BandB_CBS) May 26, 2019
Flo and Wyatt are about to find themselves in the middle of the entire mansion all by themselves while everyone is out for some reason or another, and they are going to take advantage of that. Will he make the mistake of sleeping with her now that things are looking up for them? Fans are not sure they like this situation, as we all loved Wyatt and Sally in every manner of speaking. We love them together, and we want to see them find a way to end up back together rather than seeing him with this woman who has done such horrible things to his own family. He, of course, has not idea what has happened there, but what else is there to do and say about that? What is left for them to handle other than to find out what is going on?
We don't know entirely, but we do know that there is so much we can see happening in the near future. We can see things going their way, but we can see things falling apart for them even more. We want to see her get caught in her lies and we want to see this baby get to go home to her real parents. As much as that will hurt Steffy, she cannot deny the fact that she cannot raise a baby that was stolen from her own ex and his wife. And she won't try to keep the baby in any good kind of conscious. We don't think she will, anyway.
Stay tuned for more The Bold and the Beautiful and be sure to check out TVOvermind daily for the latest The Bold and the Beautiful spoilers, news, and updates.