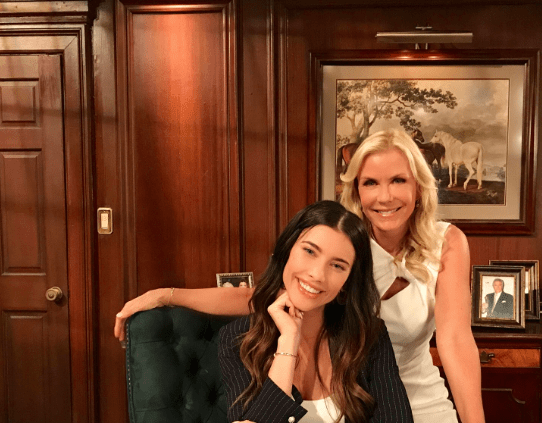 The Bold and the Beautiful fans are not surprised that everyone in LA is worried these days. Flo had a conversation in which Hope informed her that her marriage to Liam is definitely not what she wants. She's not sure she wants to be married to him. It's too much, and she does firmly believe that he is better off focusing all of his energy and his life on his daughter and her sister, and she doesn't feel that she can be there while he does that. She also has this new information that Thomas has feelings for her, and his son doesn't have a mother anymore. She loves this little boy, and she could see herself taking over the role of a mother figure for him following Caroline's death. She's considering it, and that stresses Flo out more than anything. And, it should. She did this to Hope. This is her fault.
Meanwhile, Liam is also stressed. Here he is in Paris trying to spend some time with his kids and get to know them, bond with them, and be there for them and his brother calls to tell him that his brother-in-law is there to steal his wife. He's professed his love to Hope, and he wants her to leave Liam to be with him. What will Liam do at this point? Is being with his kids more important to him than being with his wife at this point? She has made it clear that this is not something she wants. Meanwhile, Sally is not happy with Thomas for making it seem like they were keeping secrets from Wyatt so that he would end their relationship. She loves Wyatt, and this is not what she wanted in her life. She's furious, but Quinn has never really been happier.
What's Happening on The Bold and the Beautiful
Flo's guilt may never go away… #BoldandBeautiful pic.twitter.com/UUubdz6slZ

— Bold & The Beautiful (@BandB_CBS) May 8, 2019
Well, it should not go away.
What's Next on the Bold and the Beautiful
A bold move ignites an epic battle. 👊 See it all this week on #BoldandBeautiful! pic.twitter.com/RR789Nd7xr

— Bold & The Beautiful (@BandB_CBS) May 4, 2019
It turns out that Liam is going to fight for his marriage. We were not sure he would, but we hear that he is going to make it clear to Thomas that he is not going to stand by and allow him to make him feel this way. He will not stand by and allow him to break up his marriage, and he will not tolerate this level of disrespect and sheer backstabbing. He is not invested in this, and he will not make any changes to his way of thinking. He's got his own life to worry about, and that is what it is. We cannot wait to see what is happening when they realize that they will end up going head-to-head to win her over and make this work for her. But, this is the kind of stuff that happens.
At the same time, Flo has some other things to worry about. She's going to learn that Sally moved out of their home after Wyatt learned that she had a secret from him, and now she has a choice. Does she use this break to move into his life in a more permanent capacity and get what she wants from him, or does she make it a point to back off and let everyone live their life? Does she feel at all responsible for the sudden mess of everything that is happening in LA since she arrived there to do nothing but help Reese lie to a woman about her baby? She's not sure.
Stay tuned for more The Bold and the Beautiful and be sure to check out TVOvermind daily for the latest The Bold and the Beautiful spoilers, news, and updates.