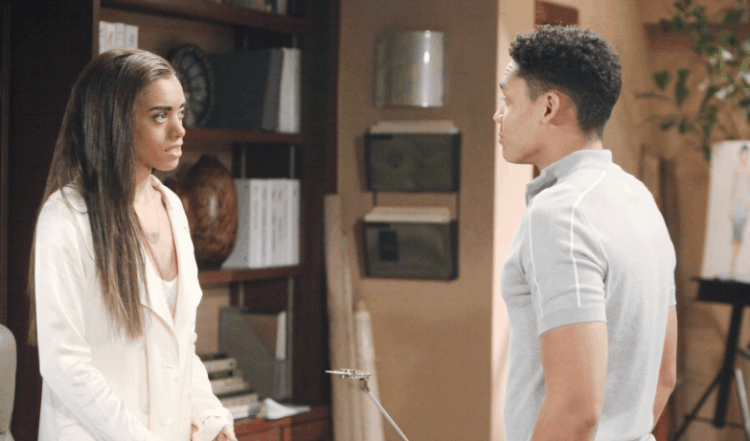 The Bold and the Beautiful fans know that Flo wants nothing less than to be Hope's friend. She likes her a lot, but she knows that she took her baby, passed it off as her own, and sold it to the highest bidder – and she knows how much Hope is suffering because of it. She knows that this woman is ready to give up her marriage and her life and all the things that make her happy because of the loss of her baby, and she is not willing or ready to do that, to make it happen, or to make that situation her own. She is not willing to put herself out there like that and make things change in her life, and we cannot wait to see if there is something that will change her mind. Hope, however, is working hard to make a new friend, and Flo will break down before much longer if we are not mistaken.
And then there is Wyatt, who had something to tell his parents and Flo's mom. You see, she did not know that her daughter had a baby, and they are all shocked to know that Flo was a mother and that she gave birth and that it's her baby that Steffy adopted. There is nothing that will make this situation much more awkward than the fact that this baby is not her baby, and it will make her mother upset. She didn't know any of this, and she might just demand that her daughter open up to her about the way things are going and the way that she is choosing to live her life. We cannot be sure, but we do think that she will make some more mistakes before it's too much later.
What's Happening on The Bold and the Beautiful
https://twitter.com/BandB_CBS/status/1115702367771488256?ref_src=twsrc%5Etfw
This is a gorgeous photo, isn't it?
What's Next on the Bold and the Beautiful
https://twitter.com/BandB_CBS/status/1114890572903239680?ref_src=twsrc%5Etfw
Flo is about to come clean. She cannot take it any longer. She cannot allow Hope to continue to think that her daughter died during childbirth when Flo knows the little girl is alive and well and thriving in her life. She has to tell her, and she will do it today. Well, she is going to try. Hope is going to interrupt her when she is trying to spill the news to her, and she will then reign it in and keep it to herself. She will not make a mess of this, and she will catch herself and Hope will not learn the truth about her precious daughter today. We have to admit that we are all getting a little impatient with this one, though, and we think it's time that they bring this out and tell us that it's happening. It's becoming too much.
Additionally, the fact that Flo has a secret is going to come out and it's going to change lives forever. But, don't get too excited. We are almost positive that this is not the secret that has to do with her not being the mother of the baby that was adopted by Steffy. This is something else, something that might have a bit more to do with the paternity of her father than anything else, and this is why there will be such a shocking situation with all the families in LA. There will be an effect on everyone, and that's why we think this is the truth.
Stay tuned for more The Bold and the Beautiful and be sure to check out TVOvermind daily for the latest The Bold and the Beautiful spoilers, news, and updates.