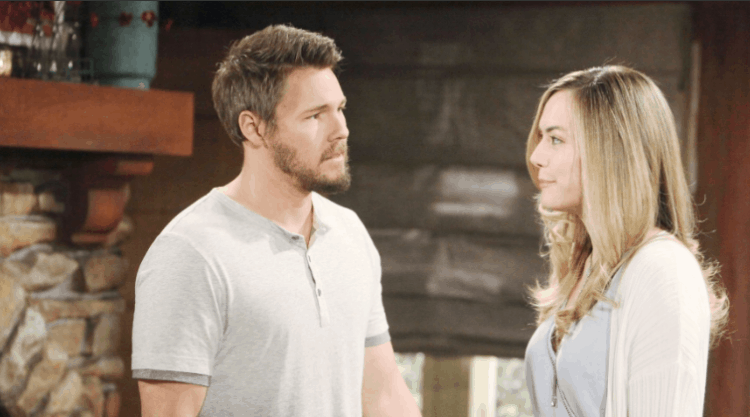 The Bold and the Beautiful fans were almost happy. Flo opened up her mouth and started to tell Hope that she took her baby, sold the baby to Steffy, and pretended to be the birth mother to this small child even though Hope thought she was dead. It was not her baby, and she almost told her the truth. But, Hope opened her mouth to interrupt and didn't learn the truth. We do know that Flo, however, is looking for her own father and she might just have some ties to some people here in LA and her mother doesn't want her to know about it. Maybe not so much that her father is who he is, but that she was such a promiscuous young woman when she ended up pregnant. This information did not make Quinn happy considering they were friends all those years ago when they potentially got pregnant by the same man around the same time, but we don't think Bill is the father of this young woman.
Meanwhile, Zoe is worried, and she's sharing with Xander that she is afraid. Hope is insistent that Flo becomes her friend. Quinn and Shauna are convinced that Wyatt and Flo belong together and that they should spend their time together, and they are working on getting him to realize that so that they can get Sally out of his life. Thomas and Hope continue to spend too much time together, and that is not good, either. We really do see a lot that will fall apart here in the near future, and Bill's inability to concentrate worrying about Shauna and Flo might just be a game-changer for him and for Katie, too. But, what will happen will happen and we are just along for the ride.
What's Happening on the Bold and the Beautiful
Do you think Flo will tell Hope the truth now that they're related? #BoldandBeautiful

— Bold & The Beautiful (@BandB_CBS) April 12, 2019
Well, we kind of agree. But don't think for a second she won't find out.
What's Next on the Bold and the Beautiful
The con, fully exposed 🚨 The hoax, totally busted! Don't miss #BoldandBeautiful this week. pic.twitter.com/Vo4pGSm1HF

— Bold & The Beautiful (@BandB_CBS) April 14, 2019
The entire situation that is going on in LA right now is a big one, and there will be so much trauma in the coming weeks. For one, Flo is panicking about her mother's reaction to her pregnancy. She might not know what her mother wants her to do, but there will be a lot of stuff that will go down and be at stake in her situation. And then Bill will learn that the baby his ex daughter-in-law adopted belongs to Flo, but we all know that this baby actually belongs to Liam and Hope, and things will take a very ugly turn. Flo might not be able to do the right thing at this point, and it might be too late for her. We still cannot figure out why she feels that this secret can stay a secret forever, and why she thinks that she can allow this family to befriend her and take her in after all she did.
She will be caught, and it will be too late. We don't think it will help too much at this point if she tells them what she did, but we do think that it will be a lot better for her to make this decision on her own. She will be someone who can take control of this, but we don't think she will. And this will become a bigger problem altogether if she doesn't get ahead of it. But, we all know she is not getting ahead of it and she is not making decisions that are good for anyone else. This is not good news.
Stay tuned for more The Bold and the Beautiful and be sure to check out TVOvermind daily for the latest The Bold and the Beautiful spoilers, news, and updates.