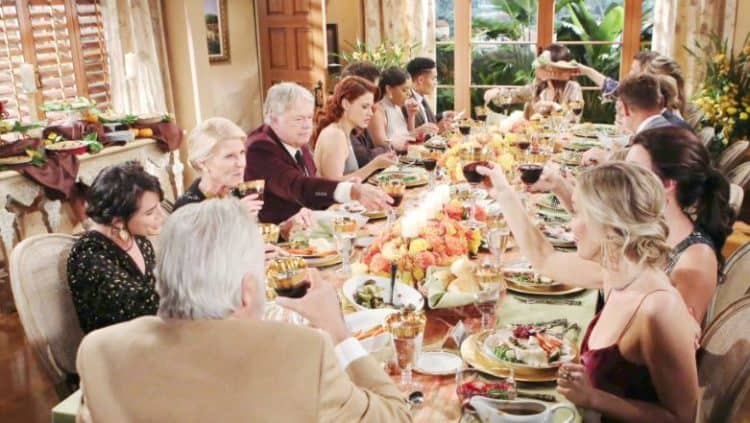 The Bold and the Beautiful fans watched as the people they love in this show celebrated the day of thanks together. They spent their day around the Forrester table, and things could not have been more entertaining for all of us. For one, we loved watching Quinn act like a puppy around Eric who had to mark her territory while Donna was there working her own magic with the help of Pam. Somehow, these two women made it entirely impossible for Quinn to feel as if she was the hostess in her own home. They sat around her table and made her feel as if she is the outsider who has no business being there. That was pure magic for all of us. We kind of love seeing this kind of awful side of Pam, who is usually so helpful and friendly to everyone she meets. It's been truly fantastic for all of us.
And then there was the moment that Steffy and Hope had to work together to seat everyone and come up with the thankful situation. They want everyone to go around the table and state what they are thankful for, but they are working very hard to be good with one another. They've both grown a lot this year, but it's been difficult for them. They continue to fight over the same man, and Hope will never feel comfortable with Steffy in her life now that Steffy is the mother of her husband's first baby. We do know that they are both trying so hard to be good with one another, and we do hope that they can be that way for a long time, but watching them together always has us holding our breath and wondering if things will work for them, but we do hope it does.
What's Happening on the Bold and the Beautiful
We have an important #Thanksgiving message from the set of #BoldandBeautiful. @CliftonsNotes wants all of our fans to know he's grateful for YOU! 💙 pic.twitter.com/Ll8J3ERptr

— Bold & The Beautiful (@BandB_CBS) November 20, 2018
What's nicer to hear on a day like this than the fact that you are appreciated and someone is thankful for you? Nothing, and that's what we love about this cast. They show their appreciation all the time, and that's a beautiful thing.
What's Next on the Bold and the Beautiful
Nothing says Thanksgiving like family, fights, and fun times! Join our holiday celebration this week on #BoldandBeautiful. ✨ pic.twitter.com/XpnSq0R9Vw

— Bold & The Beautiful (@BandB_CBS) November 18, 2018
This is where we bring you the bad news of the day. It seems that you're watching nothing related to this show today, but there is good news. The show will be back on Monday. And it is Thanksgiving, so that's good news. You can eat your sadness in turkey and stuffing, pie, and probably too much wine if you spend the day celebrating with your extended family. We know you love them so much, but a long day of celebrating with them can be a bit taxing for anyone, right? So, we encourage you to have a very happy holiday season this long weekend. If you are going shopping tonight or tomorrow, we encourage you to do so safely and without any drama. Remember, no sale is really worth beating someone up in line at a big box store on the day you are meant to be thankful for all the goodness in your life. Let's just keep that in mind when we do things right this day.
If you are working on something to watch this afternoon, it will be NFL. There will not be anything to do with soaps on CBS as the games will be on. We do apologize for this (like we feel it's our fault or something) but this is the reality of the day. Eat, drink, be thankful and merry and start thinking about how much you love and appreciate the god in your life, because we know there is always so much for you to be thankful for.
Stay tuned for more The Bold and the Beautiful and be sure to check out TVOvermind daily for the latest The Bold and the Beautiful spoilers, news, and updates.