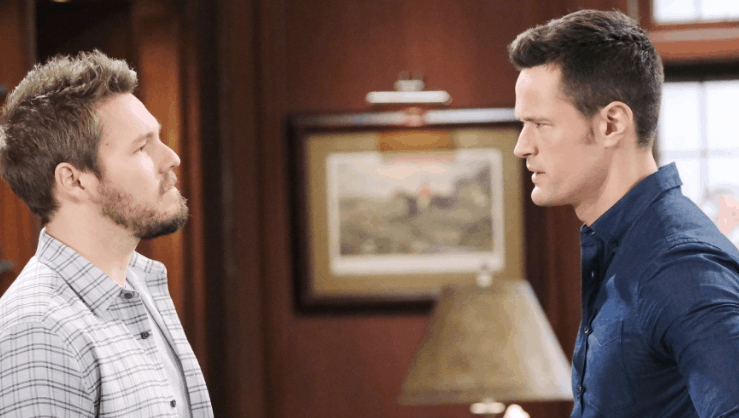 The Bold and the Beautiful spoilers tells us that Thomas' desire to use Caroline and her death to make sure that Hope falls for him and his son is working, and he is not going to end his plan to get her to leave Liam. She's already called the end of their marriage to the table, and she's not going to stop there. She might not love Thomas, but she loves this little boy, and she's willing to give up her marriage to Liam and her own future to be with Thomas because it means she gets to be with this little boy and she gets to be a mother. We saw her ask her stepsister to help her end her marriage to Liam, and that has shocked everyone. She's asking Steffy to open her own door to Liam to take him back so that Hope can leave and not feel guilty.
Liam made it very clear to Thomas that he believes Hope will never love him. She loves his child, and that is not the same thing. She might be with him so that she can be a mother, but she will never be with him because she loves him. Thomas, though, seems very much unconcerned by all of this, and he's not worried about whether or not she actually loves him. He's only worried about being with her and being a family. He's getting what he wants. Meanwhile, fans are just beside themselves with the way things are going right now, and that's not even far from the truth. We know nothing is going to work in their favor other than the fact that Hope will eventually learn her own baby is alive, and that will change the course of their current poor choices and actions.
What's Happening on Bold and the Beautiful
TUNE IN ALERT 🚨@CliftonsNotes, Annika Noelle, and @JMattAtkinson are LIVE now on the #BoldandBeautiful Facebook page!✨ pic.twitter.com/x1R66PzeTB

— Bold & The Beautiful (@BandB_CBS) May 28, 2019
Your very own love triangle right here.
What's Next on the Bold and the Beautiful
The lie destroyed them. Now will the truth be told? Find out this week on #BoldandBeautiful! pic.twitter.com/iMCvk3oRud

— Bold & The Beautiful (@BandB_CBS) May 26, 2019
Hope is not willing to go through with her marriage, and she's not going to stay with Liam. However, she is going to sit down with him and they are going to have a very emotional situation on their hands. They are going to discuss that they have a different view of life right now. They had such beautiful, big dreams for their daughter, and she didn't live long enough for them to even meet her. Things did not work out for her, and she's not sure that she can handle that. She is beyond crushed that things didn't work out for her in the way she wanted them to, and she's not sure she can focus on any of that in any way. She's upset, she's crushed, she's hurt, and she's not living her best life.
The will have a very emotional moment, and that's not the only one that is going on. Wyatt and Flo are going to take the moment of being alone in the mansion to be intimate with one another, and we hate every moment of that. We want to see him with Sally. We don't like Flo. We just cannot get on board with her and her ways, and we are not happy with her and her life. She's not a good person, and we don't want to see a nice guy like Wyatt waste time with her knowing she is awful. He was so good with Sally. They were good for one another, and his mother ruined that for them.
Stay tuned for more The Bold and the Beautiful and be sure to check out TVOvermind daily for the latest The Bold and the Beautiful spoilers, news, and updates.