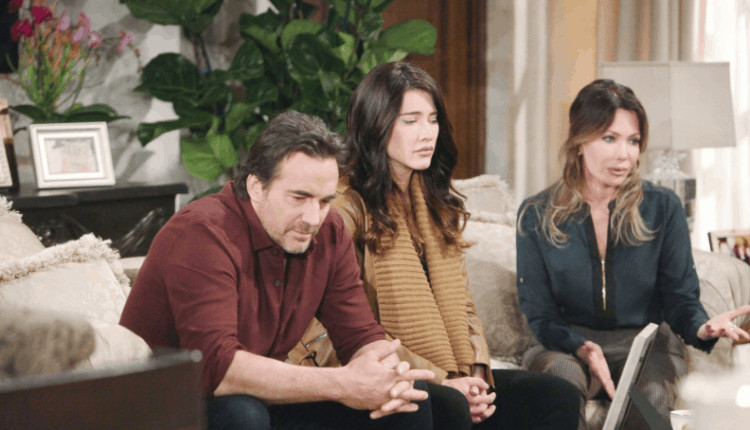 The Bold and the Beautiful fans know that Monday was a shocking day for many. The fact that Thomas is back is a big deal for so many people, but the circumstances surrounding his return are sad. The mother of his baby is dead, and they have to celebrate her life. Bill is horrified tha the wasted so much of Thomas and Caroline's time as a family going though these motions of being troubled and upset with his lies, and Katie will do all she can to protect him and make sure he feels okay about his life and the roles he's played in all of this. There is so much we cannot help but wonder how it will change. But for now, we are seeing that there are just so many people happy to have Thomas home, and Sally is not really one of those people in this moment.
The other thing that's definitely going on is that Hope is making it a point to connect with Douglas. No one is going to be specifically happy about all of this, and it might not go well. She's doing all she can to spend her time with the babies in the family, and she's making this one a priority. And it might just cause someone to worry more about her than they are already. She's been connecting hard with all the babies around here lately, and this is one of those moments we are not sure will work out well for anyone else, either. She's too close to the babies, and this might be the moment they all have to admit that she's not all right, things are not working out for her, and she does need some help in her life. Will this finally come to a head?
What's Happening on the Bold and the Beautiful
Is Taylor right? Should Steffy stay and fight for Liam? 💘 #BoldandBeautiful pic.twitter.com/zM6OHLXNWH

— Bold & The Beautiful (@BandB_CBS) March 14, 2019
We don't know. Should this happen? She was so strong without him.
What's Next on the Bold and the Beautiful
When tragedy strikes, a family fights to find strength this week on #BoldandBeautiful. ❤️ pic.twitter.com/OzMfV6qtD6

— Bold & The Beautiful (@BandB_CBS) March 17, 2019
It's a long day for the people in LA. They are all gathered together to celebrate the life of a loved one gone too soon. Bill's niece, Caroline, has passed away. Thomas and their son, Douglas, have returned home to be with their family so they can face this loss with their loved ones, but it will not take long for everyone to realize there may be another problem brewing that they did not see coming. Thomas is home with his son, and they are struggling. And this little boy is clearly missing his mother, and he's too young to understand what is going on in his life, why he cannot see her, and what is happening. He's confused and sad, and Hope has taken a liking to him. While this might not seem like a bad thing in general, Hope has really gone out of her way to bond with everyone's kids these days.
And everyone is worried for her as this happens. They are not going to have much else to say about this other than the fact that there is a lot happening they don't know how to explain. There is a lot going on in their lives that doesn't make much sense, but Taylor and Thomas are going to notice this quick new bond right away, and it will cause them some worry. When they express their concern, will anyone else feel the same way about it all? Will they also feel that there is something to worry about? We cannot figure that one out at all.
Stay tuned for more The Bold and the Beautiful and be sure to check out TVOvermind daily for the latest The Bold and the Beautiful spoilers, news, and updates.