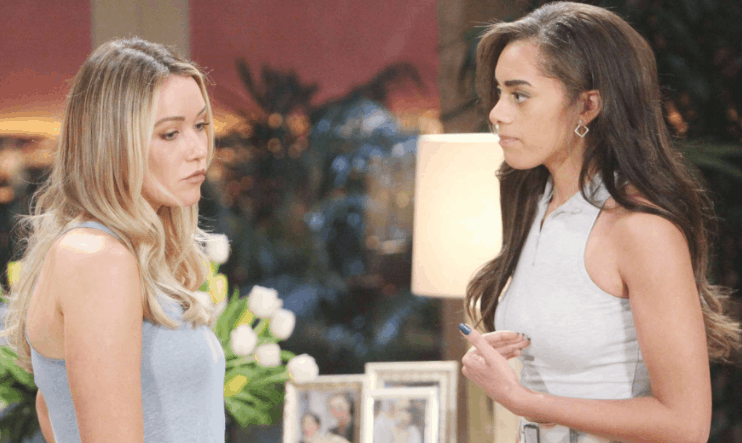 The Bold and the Beautiful fans knew that things would turn around for Flo and Zoe at some point. They do nothing but argue over this entire situation with the baby switch and the lies that they told, and now someone overheard them. Hope walked in on the two of them discussing her dead daughter, and she feels they have no right to talk about her baby at all. She wants to know what they were saying, why they were discussing Beth, and what is going on. We know that she might already have some sort of feeling in the back of her mind that something that night in the cabin on the island wasn't what it seemed. She had some memories that didn't make much sense to her, and she's already got something going on in her subconscious that might make her question things a bit more.
Then there is Thomas. He is now using things that are not his control, his right, or even remotely kind to make sure he wins over Hope. She is aware that he has feelings for her, and that his son has feelings for her, and she is loving that his son wants to be with her. She wants to be a mother so much, and she thinks that her own daughter is dead. But she will go out of her way to make sure this little boy feels the love she has to give. The ready-made family she could have with Thomas is something she's really attracted to, and she seems to forget the fact that this is not the reason you leave your husband and find another man with which to live and love. This is not good at all, but she seems to overlook the obvious and only focus on what she wants.
What's Happening on The Bold and the Beautiful
This Spencer family is reunited! #BoldandBeautiful pic.twitter.com/zh7l7PPkRn

— Bold & The Beautiful (@BandB_CBS) May 16, 2019
We were hoping it would go this way.
What's Next on the Bold and the Beautiful
She's a rebel, rival, and ready to rock. 💥 Steffy returns this Thursday on #BoldandBeautiful! pic.twitter.com/UKDS86ELeq

— Bold & The Beautiful (@BandB_CBS) May 19, 2019
Shauna and Flo are moving on up, again. They already showed up in LA to make their moves, and they've made it their point to have a new life. They have a new, wealthy, family thanks to figuring out who Flo's real father is, and now Flo's sister, Brooke, wants to take care of her. So does her husband, so he is moving Shauna and Flo onto the grounds of his estate, and that is not going to end well. For one, we think that Shauna is looking at Ridge with more than a little interest, and being under the same roof as he will not make this any easier or better for them. On the other hand, too, there is more going on than we can figure out in some other ways. There is also the fact that we have to focus on things like the new life Shauna is living and how it's making her make decisions.
Hope is going to find a letter that Caroline wrote to her son and to his father before her death, and it will touch her. But, we wonder if she really wrote this or if it is something that Thomas wrote himself to further manipulate Hope into wanting to take care of him and his son. The letter is certainly a very sweet and touching on, but there is much more to this than we can focus on in any capacity. There's a lot happening right now, and we cannot figure it out on our own.
Stay tuned for more The Bold and the Beautiful and be sure to check out TVOvermind daily for the latest The Bold and the Beautiful spoilers, news, and updates.