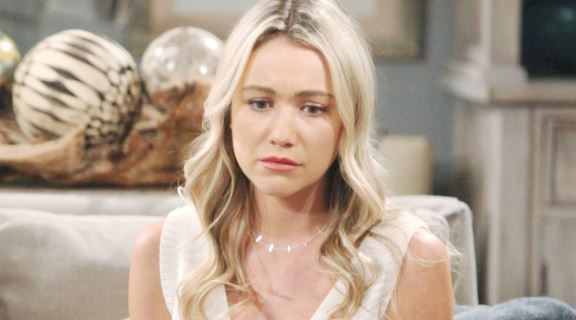 The Bold and the Beautiful fans know that Flo did the right thing, but no one is going to forgive her for this. She lied. She stole a baby from a woman who just gave birth. She caused a divorce. She caused an adoption, and she's about to cause a lot more heartbreak all around. Not only did she steal a baby from a family and a mother and a father and their families, she gave that baby to another family so happy to have that baby. And now that family is going to lose this baby, and it's going to crush them all around. It's not easy. Her boyfriend is part of both families, and this is not something he will ever forgive. He broke up with Sally for a lot less, after all. She's relieved to have this off her chest, though, and that's a nice feeling for her.
Thomas found out that Liam knows the truth, and he has to try and get Hope out of the town and away with him before anyone can tell her. But, she will not go with him. She will not allow this, and she will not cut herself out of their lives and not be with the people she loves. His plan is going to backfire, and it's going to make a bigger mess than anyone needs to deal with. He will probably do something stupid and dangerous and put Hope in more danger than she needs to be in, and he can for certain kiss his marriage goodbye. He's been in it for all of three seconds, and now he's about to lose her. Of course, she never loved him in the least, so there's not much for him to lose. He didn't stand a chance.
What's Happening on the Bold and the Beautiful
Could you see the #BoldandBeautiful characters on @CBSBigBrother? From the best competitor to most likely to be in a showmance, our stars weighed in on who would thrive in the #BB21 house. pic.twitter.com/3Rh95m2fYZ

— Bold & The Beautiful (@BandB_CBS) August 2, 2019
This is a fun question.
What's Next on the Bold and the Beautiful
It's the moment everyone has hoped for, and it is EPIC! 💥 You won't want to miss a minute this week on #BoldandBeautiful. pic.twitter.com/2scSJWW60y

— Bold & The Beautiful (@BandB_CBS) July 28, 2019
It's a new week, but it's not a new situation for Flo. She's told the truth, and that has released a huge weight from on top of her shoulders. She can finally breathe again now that it's been taken care of, and she feels so much lighter as a result. But, she's now dealing with other things. Those other things include the fact that her lies and her exposing the truth means that Wyatt is no longer interested in being involved in a relationship with her. He is over it, done with it, and not having any of it. She's going to try to save her relationship with Wyatt, but it's futile. He's not interested in any capacity.
And, then there is the fact that Liam finds Thomas, they clash, fight, and scream, and Hope will learn the truth. Her baby is alive. Her daughter, the baby she's never met, is alive, well, and she's there for her to be with. She's been with this baby so much for many months, and she had no idea that baby Phoebe was her own. She is happier than she's ever been, but it will only take a moment for her to realize that her own happiness is about to make another mother's life end in a way. Steffy will be crushed. She will be happy that Hope and Liam have their baby back and she did not die, but her heart will break losing the little girl she's been raising as her own. She will never be the same again, and it's crushing our souls.
Stay tuned for more The Bold and the Beautiful and be sure to check out TVOvermind daily for the latest The Bold and the Beautiful spoilers, news, and updates.