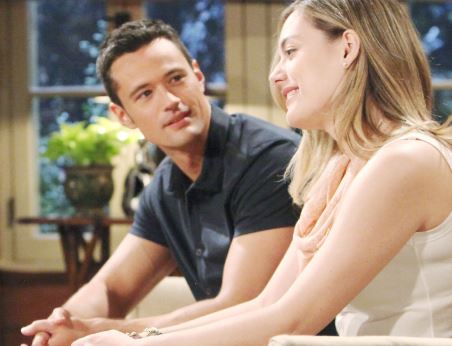 The Bold and the Beautiful fans aren't sure that anyone is surprised to see Ridge and Brooke throw down the way they did yesterday. They are a mess, and they have always been a mess. They cannot stay out of their kids' lives, and that makes for a rough go in their marriage. They have some issues we cannot deny, but this is a mess for us and them. They are not in a good place, and we get that. But, we also get that they have to figure this out. He asked her why she hates his son so much when he clearly loves her daughter and wants to make her happy. He accused her of always putting her own daughter before anything and everything else, even their marriage. She lost her mind and lashed out at him for that, and they both said more than a few things we are certain that they cannot take back.
Meanwhile, Liam took some time to look back on his life and the moments he's shared with Hope. They had a lot of good times and romantic moments in their lives, but we are here to point out that for every good and romantic moment they shared together, they shared at least three moments of sadness and heartbreak that cannot be repaired. Their downs are more than their ups, and they never seem to make it work. Perhaps he should use this time to realize that they will never be together forever because they both know there is always another woman in their lives, even if she's not interested in being in their lives or doing anything other than raising her own kids. What will happen with the truth comes out and Hope is happy but Steffy is crushed?
What's Happening on the Bold and the Beautiful
From Forrester Creations to the beaches of Fiji, everyone is finding romance on @CBS! We asked the #BoldandBeautiful stars for their tips on summer love for the @loveislandusa contestants. 💕 pic.twitter.com/17XTwml0tw

— Bold & The Beautiful (@BandB_CBS) July 16, 2019
We have to say that we love that this is where they went when discussing love.
What's Next on the Bold and the Beautiful
The countdown has begun to happily never after! Don't miss it this week on #BoldandBeautiful. pic.twitter.com/VX7Fo8UoPh

— Bold & The Beautiful (@BandB_CBS) July 14, 2019
Thomas is done playing games. Well, he's not doing playing games that involve using his son as a pawn to get to Hope and a future marriage between them, but he is done with her mother. He is going to issue a threat to his father than he hopes will make its way to Brooke, who will not be very happy about it and what it means for her or them. But, that's a thing that might just work out for everyone. He will make sure his father knows what he means and how this will work, and we cannot imagine that Ridge will keep it from him. There is a lot that might go down here, and this is exciting for us. But, what about Brooke? She will not like this, and she will not like it coming from her husband.
Meanwhile, we also know that there is a lot going on with Hope is going to consider her options on her wedding day. It's coming up, and she has some decisions to make. Will she go with the ones that make her happy, or will these decisions and the process of making them depress her enough that she might decide she's not into this or willing to do it? We think she knows she is not into it, but she's doing this for a child who needs a mother, and she thinks it's the noble thing to do. It's beyond stupid, and she should know better, but she's too emotional and not together to make that connection.
Stay tuned for more The Bold and the Beautiful and be sure to check out TVOvermind daily for the latest The Bold and the Beautiful spoilers, news, and updates.