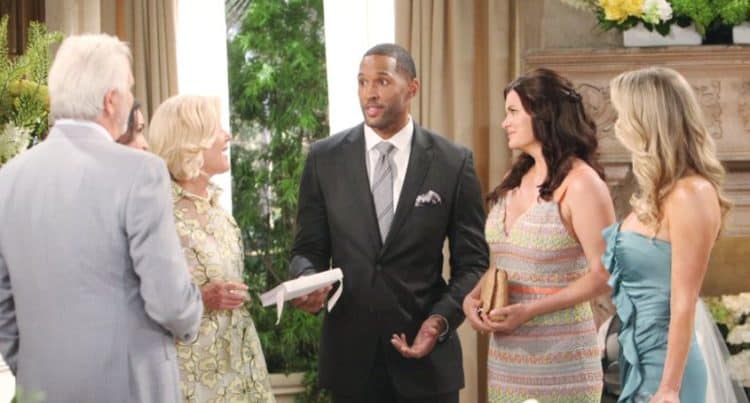 The Bold and the Beautiful fans want to see things work out for Hope, but there is a lot going on that might not allow that to happen. There's a long situation in her past that will haunt her, which is the death of her baby. Except, we all know that her baby is not dead. In fact, she is one of the very few people in LA who doesn't know her baby is not dead. She's living with Steffy, and that's the baby she adopted. It seems that everyone in her life knows this except her, Liam, and Steffy — and their parents, of course. She's facing a marriage with a man who she is not in love with, and he's managed to pressure her into getting married right away rather than waiting and making the most sense of things. He used his own son to make this happen, and that is not something we can stand to watch. She'd be horrified to know he put his son through what he's been through, too.
Then there are Ridge and Brooke and their marriage. They are not the type who will make it, but they cannot get that out in the open. Last week brought about a huge fight between them, and we are not sure that they can get past this. She's avidly against his son being married to her daughter, and her daughter is all for it now that Liam spent a night in bed with Steffy. We watched Liam go through a long week of memories of happier times, and he's not sure he can go through with Hope's new marriage. He cannot handle it knowing he loves her and she loves him, and there is no valid reason they cannot be together. Will this week change any of that?
What's Happening on the Bold and the Beautiful
Wedding bells are ringing in Los Angeles! 🔔 You're invited to join us for Hope and Thomas' wedding which begins today on #BoldandBeautiful. 👰 pic.twitter.com/jMeExo8fUQ

— Bold & The Beautiful (@BandB_CBS) July 18, 2019
No one wants to go to this wedding, do they?
What's Next on the Bold and the Beautiful
The countdown has begun to happily never after! Don't miss it this week on #BoldandBeautiful. pic.twitter.com/VX7Fo8UoPh

— Bold & The Beautiful (@BandB_CBS) July 14, 2019
It seems that the wedding that should never have happened actually happened, and everyone is upset about it. We know that Hope is not in love with Thomas, and she may not even be attracted to him. She married him to become a mother to his son, and that is it. She's a friend to Thomas, but she made it clear to him she has no real interest in being a wife to him. She's not going to do anything other than be the best possible mother to his son, which she is looking forward to. So, they are married, and they are spending their wedding night together. When she decides she's not going to sleep with Thomas, she will reject his advances, and he will end up upset. Will she see a side of him she didn't see?
Or will she feel bad about making him feel bad? She cannot decide, but this is something that might just make us wonder what else is going on for them. They have a lot to offer one another, but they aren't in this for the right reasons. She's in it for all the weirdest reasons we've ever encountered, and he is in it for his own personal gain. He does love her, though, and he does want to be married to her. This will obviously never work out for any of them, but this is something we have to wonder about.
Stay tuned for more The Bold and the Beautiful and be sure to check out TVOvermind daily for the latest The Bold and the Beautiful spoilers, news, and updates.