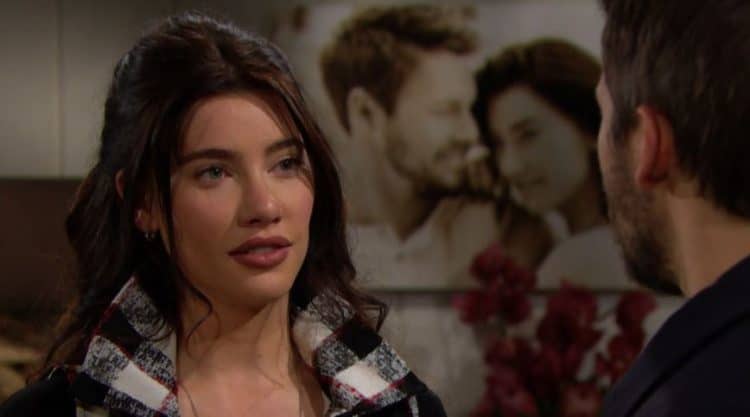 The Bold and the Beautiful fans are certain that Steffy is adopting this baby. And we are just as certain that this is the baby that belongs to Liam and Hope. We might not know how Reese pulled this off, why he is doing this, and what he was thinking getting Flo involved, but we do know that there is just no other thing that would make any sense. And we are just going to sit back and wait for it to all unfold. We know that Steffy had to make this decision despite the fact that there are some people she feels might not be down for this. She might not find that everyone is as happy for her as she is for herself. She is, after all, about to have a second baby when her ex and her stepsister just lost their first baby together. And we have to assume that this will cause some additional tension with all of them.
Bill is making his rounds with his kids — and their mothers. He's been in a good place with Katie this week, but she's not happy with the way her husband is reacting to any of this. She seems to feel that Thorne should support all of this, even if she was the one who basically made him want to be the father of this little boy after sharing all the awful things that Bill did to her and their son. And now she's all forgive and forget and let's be happy, and Thorne is left out on the side watching his little family bond with another man. He's definitely not a fan, but he's trying to keep it together to maintain some semblance of peace and happiness. Will that work for him? We don't know.
What's Happening on the Bold and the Beautiful
We love to see Liam smiling again! #BoldandBeautiful pic.twitter.com/4xJ97L5ceR

— Bold & The Beautiful (@BandB_CBS) January 25, 2019
The ramifications of this moment are going to be astounding, don't you think?
What's Next on the Bold and the Beautiful
A stolen baby, a rigged adoption, and it's just the beginning. 👶 See what happens this week on #BoldandBeautiful! pic.twitter.com/y6SThNVa9e

— Bold & The Beautiful (@BandB_CBS) January 27, 2019
Things will not go well with Hope and Liam in the near future, but we do think that there is trouble ahead. Instead of spending time with her husband and feeling closer to him after their loss, she's feeling awful, terrible, and worse than ever about things. She's feeling as if he is not taking this death of their daughter as hard as she is because he has a daughter alive and well and in need of him. We did think this might happen, and we were right. She's not happy that he has Kelly and she has no one. She's bitter and jealous of his daughter, and we thought that might be a problem she encountered as this all went on. We are sad and heartbroken and upset for her, but we also know that there is no way she can keep this up.
Liam, on the other hand, has no idea that his wife feels this way. When she loses it on him, he will be just as shocked. He will be hurt that she feels he is not affected by his loss as much as she is. He does not feel that having a daughter already makes it less difficult to lose a newborn baby in his life. He's hurt and confused, and this will lead to yet another problem for them that we just are not sure they can get through. They are a mess, and they continue to struggle with one another as a result of this. Is this the end?
Stay tuned for more The Bold and the Beautiful and be sure to check out TVOvermind daily for the latest The Bold and the Beautiful spoilers, news, and updates.