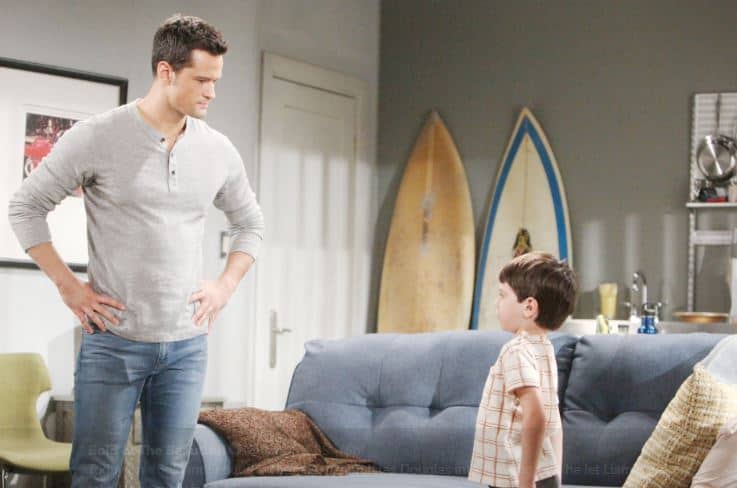 The Bold and the Beautiful fans know Thomas is losing it, but it was hard for us to watch his situation with his son. He summoned his nanny to bring the boy to him, and he was not happy with this child for what he feels the child ruined for him. He cannot see his own problems in his life right now, and that's his personal issue. He is taking his anger out on his son because he feels none of this would have happened if Douglas had not shared the truth with Hope. He told her that her baby was alive, and that was not something good. But, the truth of the matter is that they would have found out the truth regardless because Liam was already onto what was going on and what was happening in their lives. They had some issues to work through, and it was a huge thing.
Of course, then there is the fact that there is so much more going on around here, too. They have to focus on that. But, what about Ridge? He opened up to his wife about his biggest regret, and we cannot say we are too shocked to hear what he feels that is. He has a son who doesn't have much of a relationship with him most of the time. They've had some issues here and there, and there is nothing that they can do to make this situation better. Of course, there is nothing that will go toward what is happening other than his regret coming out in the open. Is it too late to fix the problems they have and get Thomas the help he needs in this desperate time? We assume he is going to cause some serious problems first, which is not good news.
What's Happening on the Bold and the Beautiful
This marriage is about to be over. What do you think Thomas will do next? #BoldandBeautiful pic.twitter.com/bax8cLVA7P

— Bold & The Beautiful (@BandB_CBS) August 21, 2019
But they do have some lovely photos to look back on.
What's Next on the Bold and the Beautiful
No apologies and no second chances. No one will believe how this week ends on #BoldandBeautiful! pic.twitter.com/1COeUvtTDn

— Bold & The Beautiful (@BandB_CBS) August 18, 2019
Hope is not a good detector of danger, and we don't get it. She's all alone at the cliff house without anyone to keep her safe, and we cannot figure out why. She knows that Thomas is not a good person, but she seems to believe that he is not a danger to her in the same way her loved ones feel that he is a danger to her. She is unfailingly naïve about just about everything in her life. She feels he would not hurt her, yet he is the one who lied to her, took her away, and didn't tell her that her baby was alive the moment he found out. We cannot forgive that one. It's ugly to us, and we cannot figure that out. But, now he's found her all alone, and we can infer precisely what that means and how that will work out for everyone in the midst of all this.
Additionally, we also know that there is a lot more to this than the other people believe. We know that there is a lot more to this than anyone knows. Ridge and Brooke are both hoping they can save Hope, and they both know that there is a problem that is bigger than they can imagine. They both know that Thomas is going to do something dangerous to her, and they know they have to save her. Ridge hopes he can save his son from himself in the meantime. He wants his son to get the help he needs, and we have to wonder what will happen to Douglas?
Stay tuned for more The Bold and the Beautiful and be sure to check out TVOvermind daily for the latest The Bold and the Beautiful spoilers, news, and updates.