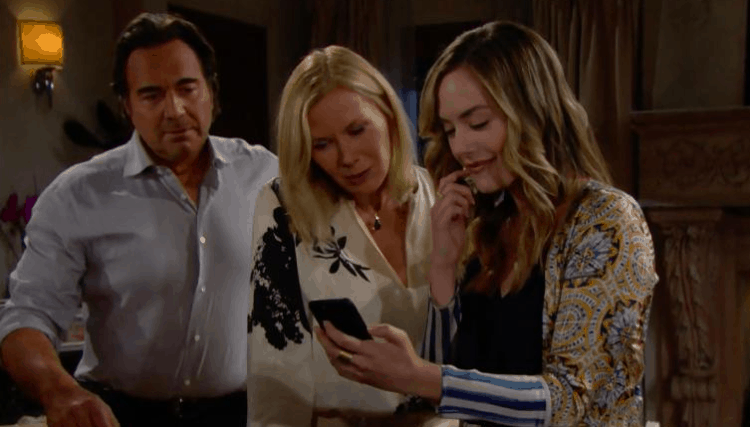 The Bold and the Beautiful fans are all wondering when the final straw will break. We were nothing short of shocked with Thomas when he decided to keep the secret he learned this week. We were sure he might go to his sister and tell her the truth, but he did not. He did, however, make this decision based more on his sister and her feelings than he did on his ulterior motive to get Hope to fall for him. He knows that the truth might bring Hope and Liam back together, but he is more concerned with the crushing heartbreak the truth will put in his sister's life. Her heart will break. Her life will change, and he simply cannot do that to her. He cannot be the person who makes this happen and makes this situation one she has to live with on a regular basis. He cannot do it.
But, we also wonder how much longer it will be until Wyatt learns the truth. He already has every suspicion imaginable that Flo is lying to him, and that she's got a secret with Xander and Zoe. He's trying to get the truth, but she's not sure she can share with him. He will change his opinion of her fast, and she knows that. But, there is a small part of her that feels he will just be so happy she was truthful and honest that perhaps he won't be too upset. He will, though. He will never forgive these lies. He loves his brother and his sister-in-law endlessly, and he will never forgive this hurt and this situation. Meanwhile, we hope this means Wyatt and Sally have a chance to work things out. Even Quinn can't argue with that one, right?
What's Happening on The Bold and the Beautiful
Whether they're together romantically or just friends, we always LOVE a good #Steam throwback! Do you remember what this is from? #BoldandBeautiful pic.twitter.com/gNIMkgXTF6

— Bold & The Beautiful (@BandB_CBS) June 13, 2019
Might there be more to their story in the near future?
What's Next on the Bold and the Beautiful
A truth bomb could lead to disaster on #BoldandBeautiful. 💣 Tune in this week to find out what happens! pic.twitter.com/YVuKqQCspi

— Bold & The Beautiful (@BandB_CBS) June 9, 2019
Things never work out for Hope when she feels that her life is unfair, and she's about to find out that she does a lot of her own problem creating. She's lost so much this year. While the loss of her baby is not her fault, she does feel that it is. She should have been home. She should never have gone to the island. She should never have put herself at risk. She did, however, make sure her own marriage failed of her own accord. She lost that by giving it up completely, and she's aware of that. She does know she made a horrible mistake of her own in that regard. But, we also know that so many things have happened to her that don't make too much sense. She's been hurt, she's been upset. She's been in a bad place. Today, she's losing something else that means a lot to her, and she won't be able to figure out how to move forward with that.
Brooke is not happy with Thomas. She is aware that her stepson is using his own child to make sure =he can win over her daughter, and she is not a fan. She is not happy about this, but she's even more upset with her husband for feeling that it's all right. Can Hope and Brooke find some peace this week, or will they continue to spiral?
Stay tuned for more The Bold and the Beautiful and be sure to check out TVOvermind daily for the latest The Bold and the Beautiful spoilers, news, and updates.