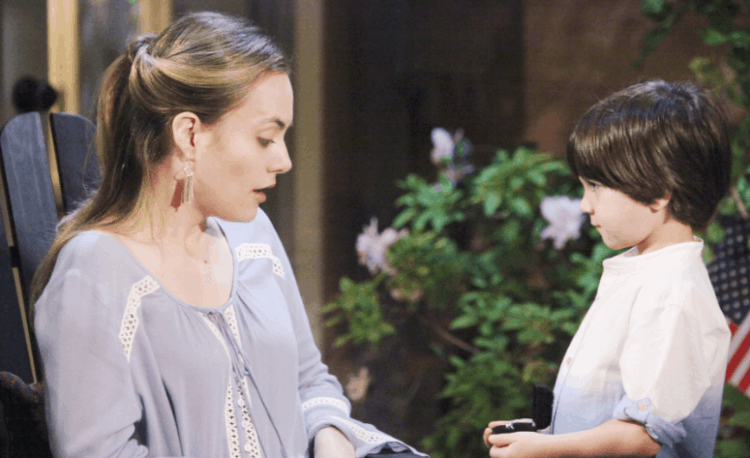 The Bold and the Beautiful fans are not happy with the way things are going where it comes to Hope and Thomas. Douglas has done what his father coached him to do, and he's made it all but impossible for Hope to say no to his marriage proposal. She's not really into him, but he also drugged Liam last week to make it impossible for him to get to Hope and spend time with her, and that led him to spend the night with Steffy. They had sex, and he told Hope all about it. She was not happy, but she did end her marriage to him of her own accord. She cannot expect him to spend the rest of his life alone, and she had to know this would happen. She was, if we correctly recall, encouraging him to try and be with her so that they could raise those babies together with a mom and a dad.
Flo and Wyatt decided to move in together, and we cannot think of anything worse. He's so happy about this, but we hope and assume the guilt of what she is doing to Hope and Liam and Steffy is eating her alive. She cannot possibly find actual happiness with that situation in her life, and we know that has to be true. She's not someone who will be able to live with this a lot longer, and we all know it. She's a mess and there is nothing we can do but hope that the truth comes out sooner rather than later so she can end things with Wyatt and he can get back together with Sally. They belong together, and we all know this to be the truth. Can we get it to happen, please? He and Flo are not good.
What's Happening on the Bold and the Beautiful
Liam is an amazing dad. #BoldandBeautiful pic.twitter.com/ouPxjbjUgd

— Bold & The Beautiful (@BandB_CBS) July 4, 2019
So sweet.
What's Next on the Bold and the Beautiful
https://twitter.com/BandB_CBS/status/1145331154452545536?ref_src=twsrc%5Etfw
Thomas is going to continue to manipulate the situation that he has found himself in with Hope, and he will find that it works for him. She's going to accept his proposal, but we think she is accepting for two reasons. We think that the first is that she is unhappy that Liam spent the night with Steffy, and we think that this is something she is going to struggle with for a very long time. The second reason is that Douglas asked, and she cannot turn down this sweet child and the chance to be his mother. There is too much there that she might find works for her, and this is one of those things we think will work the best. For now, though, she's saying yes. And Thomas is happy about that. He and his son might be the only two happy about it, though.
Xander is not happy to have this information on his shoulders, but he's stepping up with it. He's got something to say to Thomas, and he's not going to sit back and wait any longer to share what he knows and how that will affect him. He is a man who has a lot going on in his life, and he is going to make sure that this works in his favor. He thinks what Thomas is doing is wrong, but Thomas doesn't care. Xander is not done looking for evidence, though, and we suspect he will get what he needs from this.
Stay tuned for more The Bold and the Beautiful and be sure to check out TVOvermind daily for the latest The Bold and the Beautiful spoilers, news, and updates.