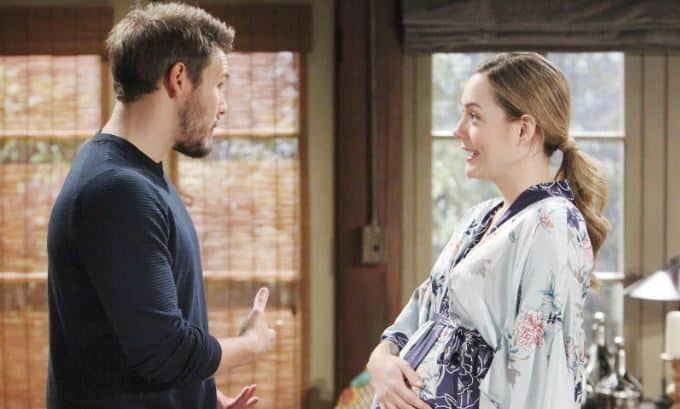 The Bold and the Beautiful fans saw Ridge give a gift to Steffy for her mother. She was shocked and surprised that her father would think of Taylor like this, but he is finding himself with a soft spot for her in the moment. She's been given a hard road. She did shoot Bill and that was terrible. But he was able to forgive her and let her go and not press charges or send her to jail for it because he cares for Steffy and he might even understand why she would do this to protect her daughter. But things don't always work out for him the way that he wants them to, and other people found out. Now they are all boycotting Taylor, making it impossible for her to love her role as a grandmother as they all call her motives into question, and they are all making her miserable. And Ridge knows what Brooke Logan can do to you when she doesn't like you.
Liam was surprised that Hope planned a quick getaway for them that allows them to spend time alone before their baby is born. He's happy about it, but he cannot just pick up and leave anytime he wants, either. He might not have his baby with Hope yet, but he's already a father to baby Kelly, and she's not someone who seems to get that all the time. She's forgetful that he already has a family, and that's no something that will actually go over well for their marriage in the future. There's too much she isn't loving as the days go on for her. There's a lot happening in her life, and she's hormonal, and things don't work out for her all the time now that she's dealing with this. It's something she didn't consider.
What's Happening on the Bold and the Beautiful
Deck the halls and get ready to celebrate with the Forresters! Happy holidays from #BoldandBeautiful pic.twitter.com/j7Ar45eMAn

— Bold & The Beautiful (@BandB_CBS) December 25, 2018
This is one of those days that just makes the world go round, and we love every second of it. We love that it's the kind of day that we can enjoy, and we love the holiday wishes that the world brings to us on this week.
What's Next on the Bold and the Beautiful
'Tis the season for holiday magic, surprises, and wishes. ✨ It's all coming up on #BoldandBeautiful this week! pic.twitter.com/89nPTrgiRX

— Bold & The Beautiful (@BandB_CBS) December 23, 2018
Things aren't going to go well for Hope as she has to remember that her family is going to suffer more in the new year. She's on her way to Catalina to spend some time alone with her husband when he has to leave unexpectedly to find his daughter and check on her. But she didn't expect that. And there is nothing that she can do when she's there all alone and he is on the mainland and there is nothing that she can do about that. We cannot be more excited about the way this is all going, but we also cannot be more worried that this will not work out well for her at all. We are all just as worried for their marriage as we think she might be. Liam is with his ex and their baby, and she's alone on their babymoon. It's not something she should be too worried about at the moment, but at the same time, we think that it is.
There's a stranger in town, and it's all a mystery to us who this person really is. There's not much going on that we don't know about these days, but we think that this person knows Reese in some way. There is a tie there, somewhere, and it's going to put his daughter at risk. She's not been a favorite since she came to town, but Zoe is beginning to grow on everyone around her — though now she appears to have some danger ahead for her, which is never good news.
Stay tuned for more The Bold and the Beautiful and be sure to check out TVOvermind daily for the latest The Bold and the Beautiful spoilers, news, and updates.